Pistachio Butter Cookies Recipe
---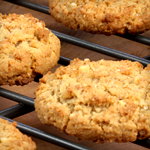 2.5g
Net Carbs
Prep Time: 20 Minutes
Style:American
Cook Time: 16 Minutes
Phase: Phase 3
Difficulty: Difficult
* Any adjustments made to the serving values will only update the ingredients of that recipe and not change the directions.

How to Calculate Atkins Net Carbs
How to Calculate Atkins Net Carbs
Atkins Net Carbs = Total Carbohydrates – Fiber – Sugar Alcohols/Glycerin (if applicable)
×
---
INGREDIENTS
0 1/2 cup Dry Roasted Pistachio Nuts (Without Salt Added)

0 1/4 cup, dry, yields Oatmeal

0 1/3 cup Sucralose Based Sweetener (Sugar Substitute)

0 1/3 cup Whole Grain Wheat Flour

0 1/3 cup Whole Grain Soy Flour

0 1/8 tsp Salt

0 1/4 tsp Baking Powder (Straight Phosphate, Double Acting)

0 1/2 cup Unsalted Butter Stick

1 large Egg (Whole)

1 tsp Vanilla Extract
DIRECTIONS
Preheat oven to 375°F. Lightly grease a baking sheet with oil spray.
Process pistachios, oatmeal, sugar substitute, flours, salt and baking powder in a food processor until nuts and oatmeal are finely ground, about 1 minute. Add butter, egg and vanilla processing until combined, about 15 seconds, scraping down sides if necessary. Chill dough for 15 minutes, until firm.
Roll dough into 24 balls and place on prepared sheet. Flatten with palm of hand to about 1/8 thick. Bake cookies until bottoms and edges are deep golden, 14-16 minutes. Cool cookies on baking sheet 1 minute before transferring to wire racks to cool completely. Store in an airtight container.
Cooking Tip
We love the idea of customizing this recipe to make it your own! If you add any ingredients, just be sure to keep an eye on net carbs.