Keto Garlic Shrimp with Avocado Dip Recipe
---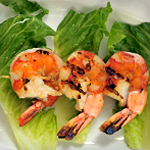 1.4g
Net Carbs
Prep Time: 15 Minutes
Style:Mexican
Cook Time: 5 Minutes
Phase: Phase 1
Difficulty: Difficult
* Any adjustments made to the serving values will only update the ingredients of that recipe and not change the directions.

How to Calculate Atkins Net Carbs
How to Calculate Atkins Net Carbs
Atkins Net Carbs = Total Carbohydrates – Fiber – Sugar Alcohols/Glycerin (if applicable)
×
---
INGREDIENTS
2 ea fresh avocado

1 pepper Jalapeno Peppers

0 1/2 tsp Salt

48 medium Shrimp

1 tablespoon Extra Virgin Olive Oil

1 tsp Garlic

0 1/8 tsp Red or Cayenne Pepper
DIRECTIONS
For dip: Cut avocado in half, remove the pit then scrape the flesh into a food processor. Remove the stem and seeds from the jalapeno (keep some if you prefer your dip to be spicy). Pulse the mixture until smooth and season with salt and freshly ground black pepper (optional). Alternatively, purée with 3 tablespoons of hot sauce instead of the jalapeno. Set aside. Pre-heat grill to medium-high heat.

In a bowl, rub shrimp with oil, minced garlic,cayenne and a sprinkle of salt. Thread 3 shrimp onto each of 8 skewers, leaving small spaces between shrimp. (If using wooden skewers, soak in water for 1 hour before using so they wont burn.)

Grill shrimp covered, about 2 1/2 minutes per side, until golden and just cooked through. Serve with avocado dip.
Cooking Tip
Whether you're feeding a family or cooking for one, you can update the serving settings above to reveal the required amount of ingredients.