Beef, Scallions and Red Bell Pepper Sauté Recipe
---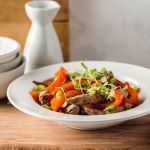 4.8g
Net Carbs
Prep Time: 10 Minutes
Style:American
Cook Time: 10 Minutes
Phase: Phase 1
Difficulty: Moderate
* Any adjustments made to the serving values will only update the ingredients of that recipe and not change the directions.

How to Calculate Atkins Net Carbs
How to Calculate Atkins Net Carbs
Atkins Net Carbs = Total Carbohydrates – Fiber – Sugar Alcohols/Glycerin (if applicable)
×
---
INGREDIENTS
5 oz Steak

0 1/4 cup, chopped Scallions or Spring Onions

0 1/2 cup, chopped Sweet Red Peppers

0 1/4 cup, shredded Mozzarella Cheese (Whole Milk)
DIRECTIONS
Sauté beef that has been cut into strips in oil in a small skillet over medium-high heat for 1-2 minutes.
Add scallions and red bell pepper. Sauté until beef is browned and peppers are soft. Add salt and pepper to taste. Drain any excess fat.
Place meat mixture on a plate. Immediately sprinkle with cheese and allow to melt.
Cooking Tip
Whether you're feeding a family or cooking for one, you can update the serving settings above to reveal the required amount of ingredients.
Featured Low Carb Recipes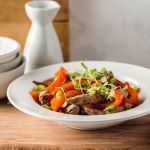 Beef, Scallions and Red Bell Pepper Sauté