Corned beef and cabbage is the Irish-American version of the traditional Irish dish of bacon and cabbage. It is also one of the most popular St. Patrick's Day dishes. Lucky for us, there are many ways to enjoy low carb corned beef and cabbage (together or on their own!). So grab a green beverage and get cooking with these festive, St. Patrick's Day corned beef recipes to celebrate the Feast of Saint Patrick, patron saint of Ireland.
Corned Beef and Cabbage

This Corned Beef and Cabbage recipe is as traditional–and delicious–as it gets. Roast the beef brisket with peppercorns and bay leaf for 4-5 hours until tender. During the final hour of simmering, add onions, turnips, and carrots. Finally, add the cabbage in for the last 20 minutes. Each serving contains 40.9g protein and 6g of net carbs.
Homemade Corned Beef Brisket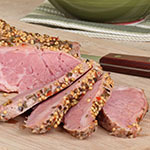 If you want to eat Homemade Corned Beef Brisket on St. Patrick's Day, you'll have to prep early. The low carb corned beef recipe calls for the meat to marinate in the refrigerator for at least five days. But your patience will be rewarded with tender corned beef brined with a mouth-watering blend of ginger, mustard seed, black peppercorns, coriander seed, and other spices. With 39.4g protein and 0.9g net carbs per serving, there are no nitrates to be found in this recipe.
Corned Beef Hash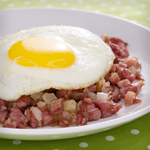 Why wait until dinner when you can start your St. Patrick's day off with this Corned Beef Hash recipe? Cubed beef, turnips, chopped onions, and heavy cream come together to make this savory hash with 18.6g of protein and 4.6g of net carbs per serving. Top with a poached egg for extra protein and an additional 0.4g of net carbs.
Savoy Cabbage with Bacon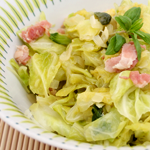 Instead of corned beef and cabbage, the traditional St. Patrick's Day meal eaten in Ireland is lamb or bacon. In this low carb Savoy Cabbage with Bacon recipe, bacon, savoy cabbage, garlic, olive oil, and mustard blend together to make a savory and satisfying dish that you'll enjoy eating any day of the year. For an even creamier combination, try our Creamed Cabbage with Bacon recipe.
Creamed Cabbage, Carrot and Cauliflower
For a cabbage option without the meat, try this Creamed Cabbage, Carrot and Cauliflower recipe. With 2g protein and 3.8g net carbs per serving, this recipe combines butter, cabbage, cauliflower, carrot, heavy cream, and nutmeg. The carrot and cauliflower not only add extra color and texture, but you'll sneak in some extra servings of veggies too.
Not in the mood for corned beef this St. Patrick's Day? For other Irish-inspired recipes, try the Atkins Irish pub salad, Lamb and Vegetable Stew, and Irish Coffee. Or explore our recipe database for even more ideas. Happy St. Patrick's Day!