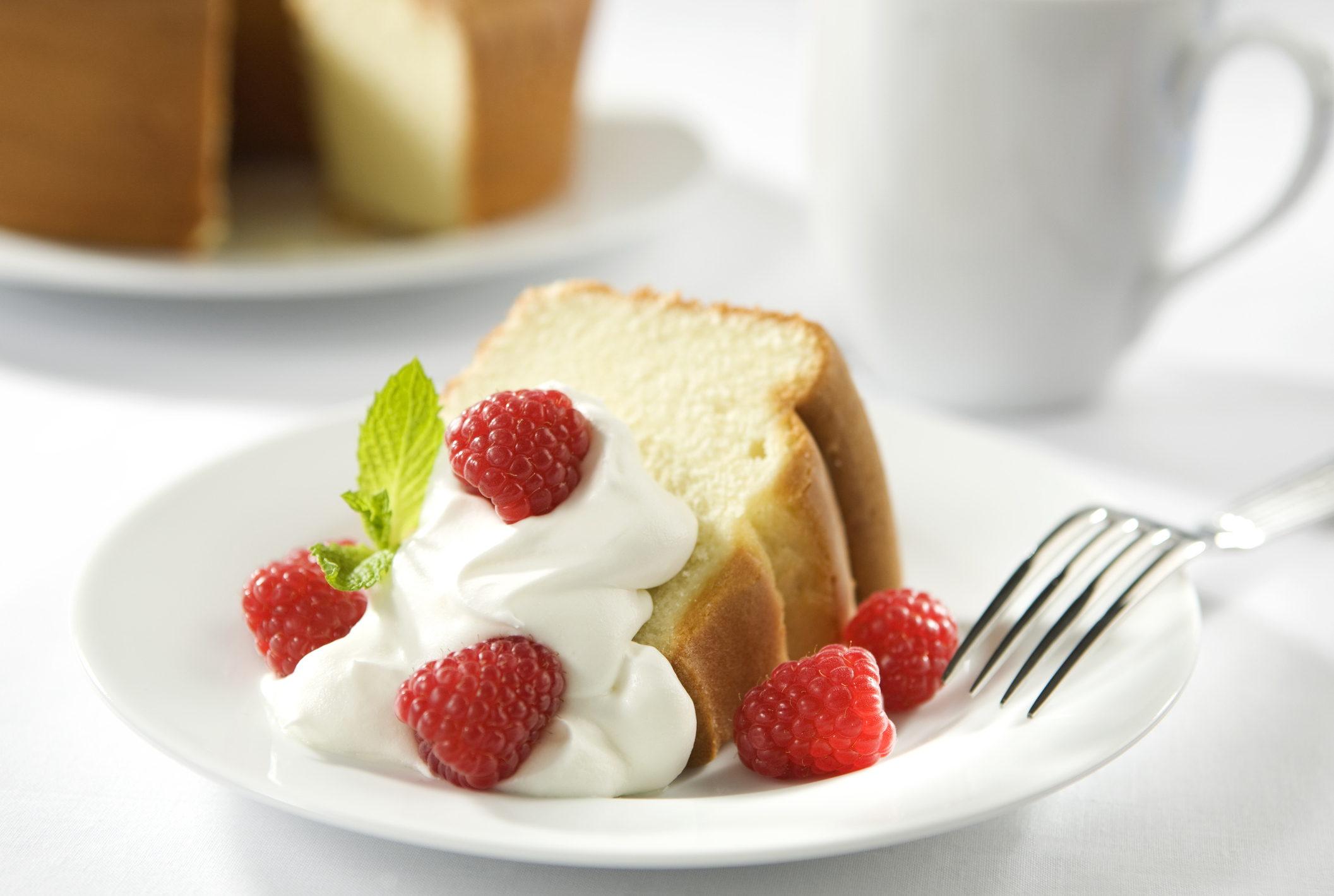 Traditional pound cake is arguably one of the easiest recipes in the history of baking. Combine a pound each of the ingredients… and voilà! And while the original recipe, which dates back to early 18th century Europe, may have changed a bit in the last few hundred years (three cheers for measuring cups!), today's variation is still incredibly delicious and just as easy to make.
Dense and delicate at the same time, classic pound cake is certainly decadent, but not necessarily favorable to those living a low carb lifestyle. Store-bought cakes are even more dubious as they can contain hidden sugars, which may make you sick and could lead to weight gain.
You can avoid these unnecessary added ingredients by making your own low carb pound cake at home with this Atkins-approved Pound Cake recipe. With 11.8g net carbs per serving, our lower carb version is just as tender and rich as the classic recipe, the only difference you'll notice will be in your waistline.
Low Carb Pound Cake Topping Ideas
Pound cake is indisputably delicious on its own, but a slice of this plain, buttery cake also makes the perfect foundation for any topping. You can get creative with your own ideas, or take a cue from the list below. The possibilities are endless! Whatever you decide, make sure to use this carb counter to keep track of any extra net carbs your added toppings will contribute to your daily totals. So if you feel like dressing up your dessert, here are a few suggestions of our favorite crowd-pleasing combos:
Whip up this easy, low carb Raspberry Mousse made from heavy cream, sugar free raspberry syrup, and vanilla whey protein. Prep the night before so it has time to chill. When ready, top a slice of cake with a spoonful or two of mousse and sprinkle on some fresh raspberries for a light and refreshing treat.

This quick and light Rhubarb Compote with homemade Whipped Cream is a perfectly sweet complement to a slice of rich pound cake without the added sugar. Try slightly crumbling your serving size of cake and layering it in a small dish with a serving size of this recipe for a personal trifle-like dessert.

Take pound cake à la mode a step further with a scoop of this homemade Basic Custard Ice Cream and a drizzle of sugar free chocolate sauce.

Top a slice of pound cake with sliced bananas, toasted coconut, and a drizzle of Smart Sweet Xylitol Honey. To toast coconut, preheat oven to 325ºF and place shredded coconut evenly on a baking sheet lined with a baking mat or parchment paper. Bake on the middle rack until golden brown (about 6-7 minutes), tossing once.

Stir together equal parts mascarpone cheese and nonfat plain Greek yogurt with lemon zest to taste until creamy and uniform in texture. Scoop onto a slice of pound cake and top with a few pecans.

Don't feel like making anything other than pound cake? You can top your slice with store-bought sugar free light whipped cream and blueberries for a quick and easy option that's super light and refreshing.

Who would have thought that chocolate and pound cake could be parts of a low carb recipe? As if you didn't have enough options, you can either drizzle this decadent Chocolate Fondue over the top of your cake or cut cake into small cubes for dipping. The latter is a great option for showing off your pound cake prowess to friends and family.
Explore our extensive collection of low carb recipes to find more inspiration for more low carb cakes and desserts to enjoy all year long. Happy National Pound Cake Day!