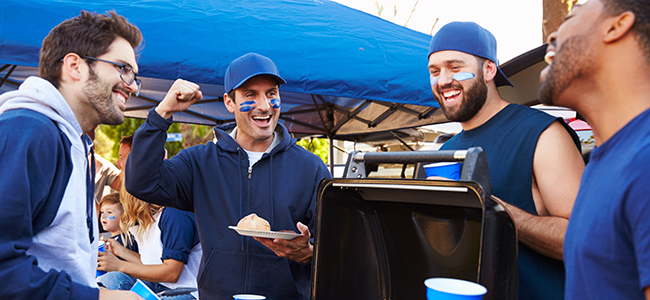 In case you missed it, football season kicked off September 8 with the NFL season opener. For many, Sunday afternoons from now through February will be spent at home or in the lot, watching the game and feasting on chili, wings, brats, and beer. In other words, football season can mean a lot of food and a lot of couch time.
How do you stay on track with your low carb diet and healthy lifestyle amid all the temptation? For answers, there's no better expert than Atkins' Vice President of Nutrition Communication & Education, Colette Heimowitz, M.Sc. Colette worked side by side with Dr. Atkins himself and has 20-plus years of experience as a nutritionist. She shares her healthy recipe suggestions and tips below.
Colette's Top Three Low Carb Recipes for a Game Watch Party
Chipotle Chicken Bites with Creamy Blue Cheese Dip
No football game watch party would be complete without a buffalo wing recipe. This one swaps coconut flour in for regular wheat flour, keeping each serving to 4.7g net carbs. If you're strapped for time, Colette says, "it's perfectly okay to use a bottle of blue cheese dressing instead of the homemade dip."
A classic crockpot recipe is another standby for football season. Bursting with vegetables, this variation packs a lot of dietary fiber to help you stay full longer. At the same time, each serving contains just 79 calories and 10.9g net carbs.
Satisfy your sweet tooth with these tasty treats. "You can use the Atkins candies and choose your team colors to use in them," says Colette. That not only makes things festive, it limits each cookie to 1.4g net carbs.
A Chili Recipe Perfect for Tailgating
Don't make excuses when tailgating. All it takes to stay low carb in the lot is a little preparation. For starters, Colette suggests whipping up a batch of Atkins two-step salsa chili and pouring it into a thermos to keep warm. To round out your options, pack these ham and cheese roll-ups on ice and tote along this savory popcorn and nut mix to snack on.
Colette's Tips to Avoid Temptation and Stay on Track
1. Never Go Hungry
"Have a meal with a protein, vegetable, and healthy fat before you go so you're not starving and out of control."
2. Plan Your Day
"If you know you're going to have lots of carbs at night, limit them during the day."
3. Stay Hydrated
"That way you won't confuse thirst with hunger."
4. Pack a Snack
"Bring an Atkins bar in case someone's making cookies or foods that aren't quite on the Atkins diet."
5. Plan to Cheat
"If you're going to cheat, plan to cheat, but don't throw all reason to the wind. Have that one thing in moderation and stop there."
6. Stay Committed
"If you do end up totally overdoing it, make sure that the next day you've got your meals and snacks planned out. Get some exercise in and get back on track."