The month of February was made for stews; there's nothing better than snuggling up with a hearty winter stew. Plus, stew recipes often combine heaps of protein and lots of good-for-you veggies. Read on for Atkins recipe suggestions for low carb stew.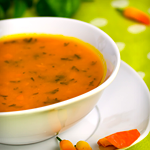 This savory stew combines scallions, ginger, pumpkin, crushed tomatoes, and boneless turkey cutlets. It's a perfect dinner recipe, with only 20 minutes of prep time and 50 minutes of cooking time. One serving contains 28.6g of protein, 6.8g of fat, 3g of fiber, 6.8g of net carbs, and 214 calories.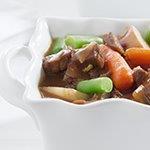 A classic stew recipe, Atkins Beef and Vegetable Stew is a hearty mix of beef chuck, white pearl onions, green snap beans, and carrots. Paprika, rosemary, oregano, garlic, and thyme add an array of flavors. You'll find 23.3g of protein, 12.7g of fat, 5g of fiber, 7.6g of net carbs, and 316 calories per serving in this stew.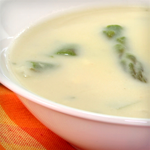 Creamy Chicken and Vegetable Stew
This low carb stew features chicken broth as a base. With chicken, cream, and mushrooms, it's an ideal comfort food. Each serving features 52.2g of protein, 28.6g of fat, 3.2g of fiber, 6.1g of net carbs, and 507 calories.
This flavorful recipe involves browning lamb pieces in a Dutch oven or pot before concocting a stew. There are 40.4g of protein, 13.9g of fat, 3g of fiber, 6.9g of net carbs, and 329 calories per serving.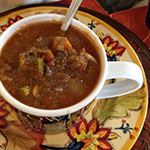 Low Carb Fall Harvest Vegetable Stew
Even though autumn has come and gone, you can still enjoy this earthy, vegetarian-friendly stew. Dig into a cornucopia of veggies, including mushrooms, celery, kale, and tomatoes. Each serving contains 1.9g of protein, 3.7g of fat, 2.4g of fiber, 6.6g of net carbs, and 73 calories.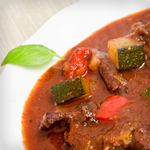 Pork and Vegetable Stew Italiano
This yummy recipe calls for pork roast and a host of vegetables including onions, celery, green sweet pepper, zucchini, and diced tomatoes. It's a dinner that will keep you full for longer thanks to a whopping amount of protein; in one serving, there are 42.8g of protein, 18g of fat, 2.8g of fiber, 7.2g of net carbs, and 375 calories.
Veal Stew with Mushrooms and Smoked Provolone
Tender cubes of veal are the star of this recipe, which also features mushrooms, provolone cheese, and celery. One serving contains 38g of protein, 19.3g of fat, 1.5g of fiber, 4.2g of net carbs, and 354 calories.
Ready to get started? Register with Atkins today for more tips and low carb recipes to help you succeed in achieving your healthy weight.