Atkins 40: The Easy & Effective Low Carb Diet Plan
Atkins 40 is an easy low carb diet plan based on portion control and eating 40g net carbs per day. If you have less than 40 pounds to lose, are pregnant or breastfeeding, or want a wider variety of food choices from the first day of your diet, Atkins 40 could be a great fit for you. With Atkins 40 you can enjoy a range of food that you choose from. From protein and veggies to pasta and potatoes, there is an extensive list of food to plan your meals around while still losing weight and feeling satisfied.
How the Atkins 40® Diet Plan Works
Start the Atkins 40 program by eating 40 grams of net carbs, 4 to 6-ounce servings of protein and 2 to 4 servings of fat per day. As you approach your weight loss goals, start to increase your carbohydrate portion size. By offering flexible eating options and a variety of food choices, it is simple to follow and easy to lose weight on Atkins 40 from day one. Your daily carbs can come from all food groups and you can choose to eat anything from the Acceptable Foods list below. With Atkins, you have the opportunity to customize your diet plan to achieve your weight loss goals in no time.
Net carbs represent the total carbohydrate content of the food minus the fiber content and sugar alcohols, if any. The net carbs calculation reflects the grams of carbohydrate that significantly impact your blood sugar level and therefore are the only carbs you need spread out between three meals and two snacks in a day.
How to Calculate Atkins Net Carbs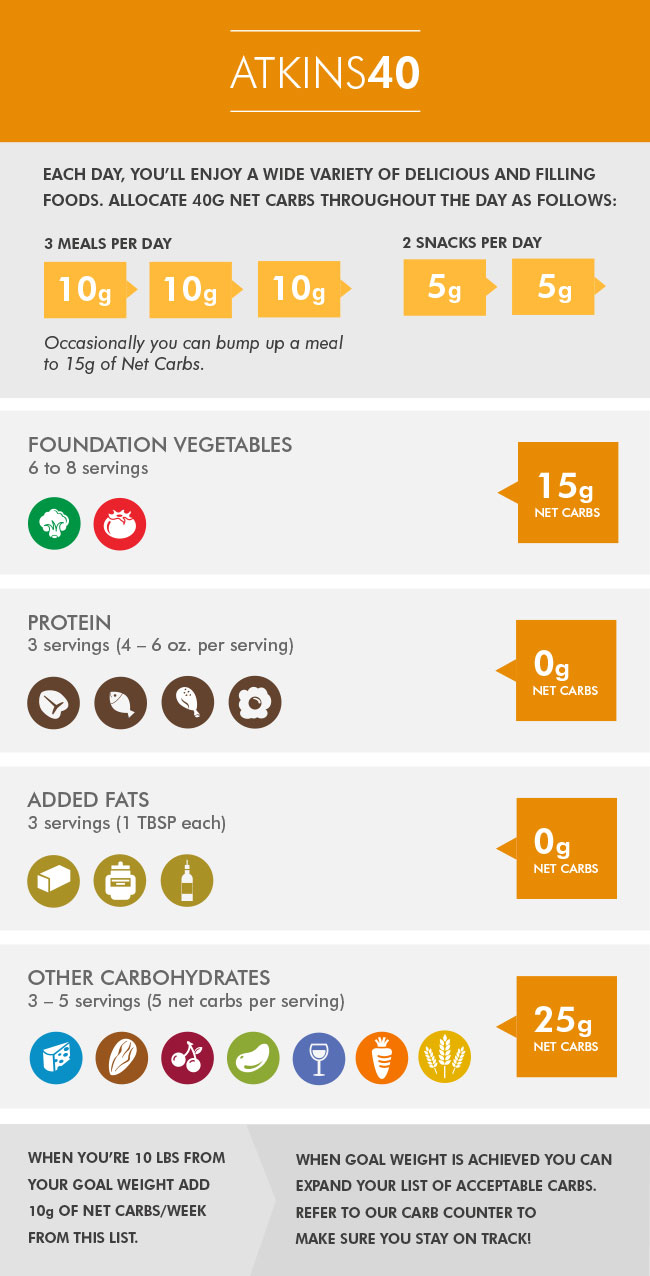 Acceptable Foods to Eat on the Atkins 40 Diet
FOUNDATION VEGETABLES – ATKINS 40
LIST OF PROTEINS TO EAT ON THE ATKINS 40 DIET
HEALTHY FATS TO EAT MORE OF ON ATKINS 40
OTHER EASY LOW CARB FOODS
Full of fiber and nutrients, veggies are one of the best sources of carbohydrates. About 1/3 of your net carbs will come from these foundational vegetables. Choose 6 to 8 servings per day from the list below.
Net Carbs
New Serving Size
Daikon radish, grated (raw)
Red/white onion, chopped (raw)
Bell pepper, green, chopped (raw)
Sprouts, mung beans (raw)
Portobello mushroom (cooked)
Bell pepper, red, chopped (raw)
Spaghetti squash (cooked)
These vegetables are the nutrient-dense, higher-fiber foundation for the Atkins way of eating. Aim for 12-15g of net carbs from vegetables per day, which is equivalent to several cups depending on the net carb content of the variety you select. One cup of veggies is roughly the size of a baseball. Measure salad vegetables raw.
Eating adequate protein is essential for achieving your health goals. On Atkins 40, aim for three, 4 to 6 ounce servings of protein a day. Everything you need to know about protein can be found in our science library.
– Seafood (fish and shellfish)
– Poultry (chicken, turkey, duck, pheasant)
– Eggs
– Beef, Buffalo, Lamb, Elk, Venison, Etc.
– Pork
– Packaged Meats: bacon, sausage, deli meat (Avoid fillers, added sugar, MSG, sulfites, nitrates when possible).
Some fats are essential for human health. And along with protein, fat helps you feel more satisfied and keeps your metabolism humming along. In addition to the unprocessed, naturally occurring fat in your food, you can choose up to three servings of healthy fats a day from the list below.
– Olive Oil
– Canola Oil
– Coconut Oil
– Flaxseed Oil
– Butter
– Grapeseed Oil
– Mayonnaise
– High oleic safflower oil
– Sesame oil
– Salad dressings (no added sugar)
On Atkins 40, the rest of your daily net carbs will come from these food groups. Choose 3 to 5 servings of food like fruit, dairy, nuts, whole grains, or even wine!
Net Carbs
New Serving Size
Net Carbs
New Serving Size
Almond milk (unsweetened, plain)
Coconut milk (unsweetened, plain)
Soy milk (unsweetened, plain)
Cream cheese (full fat, plain)
Greek yogurt (whole milk, uns, plain)
Net Carbs
New Serving Size
Net Carbs
New Serving Size
Net Carbs
New Serving Size
* Be sure to check manufacturer's food labels for most current NC count. Individual brands may vary. These are rounded NC values.
Whole wheat pasta, cooked
Whole wheat bread (1 slice)
Net Carbs
New Serving Size
* Be sure to check manufacturer's food labels for most current NC count.
Andre's Carbo-save Cracker Bread
Breyers Carb-smart Ice Cream
Edy's Slow Churned – no sugar added
WITH ATKINS MEAL PLANS, SHOPPING LISTS & RECIPES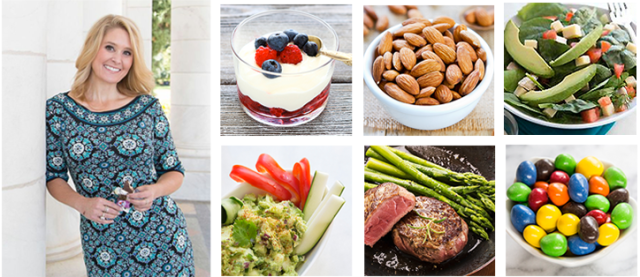 PLANNING MEALS ON ATKINS 40 DIET
Atkins 40 offers you the flexibility to eat a wider variety of foods from the start. View a two week sample meal plan to get an idea of what your new low carb lifestyle could look like.

EXPERT TIP
Alcohol on Atkins 40
We recommend that you refrain from drinking first two weeks while the body is adapting to a new metabolism of fat burning.
Then introduce alcohol if you wish in moderation. Keep in mind, your body will burn alcohol before fat so it could slow down your weight loss.
Consider drinks such as spirits neat or on rocks with lemon twist, a light beer or a glass of wine with dinner. Beware of mixers like juice or soda that could contain hidden carbs.