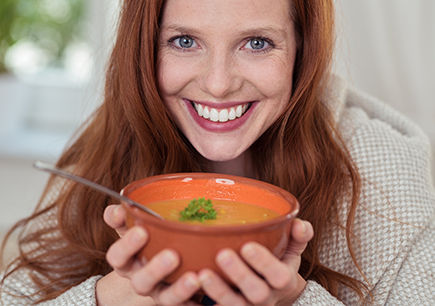 There's nothing like a hot bowl of soup or stew to warm you up on a cold winter day! When the temperatures drop, make easy low carb soup recipes for quick and satisfying lunches or dinners. Low in carbs and full of good-for-you vegetables and meat, winter soups are meals you can definitely feel good about eating.
No matter what phase you're in, you'll be able to warm up with one of these keto soup recipes from Atkins. The following low carb soup recipes (along with a couple of stew and chili recipes) are completely delicious and permitted on any Atkins phase: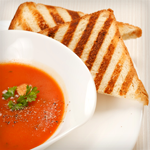 Roasted Red Pepper Soup
If you like tomato soup, you'll love this low carb soup recipe. Chicken broth and heavy cream give this soup a creamy texture, and a sprinkle of Parmesan cheese makes it feel extra indulgent. For a vegetarian option, use vegetable broth instead of chicken broth.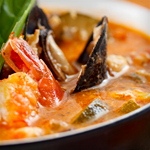 Quick Seafood Chowder
You don't need to go out to a fancy restaurant in order to enjoy delicious seafood. This quick seafood chowder comes together in just thirty minutes and can be enjoyed from the comfort of your own home. With clams, crabmeat and shrimp, this chowder is ideal for anyone who enjoys seafood.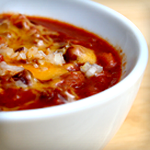 Super Chili Bowl
This hearty, beefy chili is just as perfect for a quiet night at home as it is for watching the big game. Jalapeño chilies, cayenne pepper, cumin and chili powder give this chili a kick you'll be sure to enjoy. As an added bonus, the beef and tomato base is guaranteed to fill you up.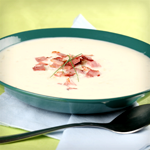 Blue Cheese and Bacon Soup
Cheese-lovers will go crazy for this 25-minute blue cheese and bacon keto soup. It's similar to a potato soup, but uses cauliflower florets instead of potatoes for added nutritional benefits. Cauliflower is known to reduce inflammation and help prevent cancer; additionally, it has plenty of antioxidants to keep you healthy.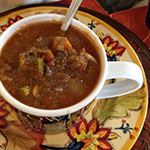 Harvest Vegetable Stew
This vegetarian stew uses a tasty blend of spices and plenty of vegetables such as celery, kale and mushrooms to produce a flavor you'll love. The longer you let this stew simmer, the more savory it will be. Vegetarian or not, you won't miss the meat in this dish.
Looking for more easy soup recipes? Browse through our recipe database to find other delicious options.