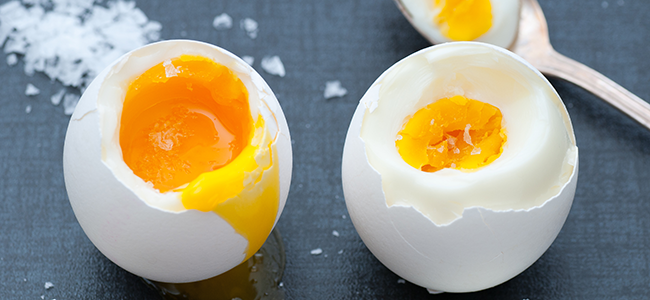 World Egg Day is celebrated every year on the second Friday in October! For those following a low carb diet, such as Atkins 20, Atkins 40, or Atkins 100 this day is the perfect holiday to celebrate because eggs are low in carbs while high in protein. If you're not quite sure which low carb recipes you want to celebrate this holiday with, then check out the recipes below! From dessert egg recipes to egg recipes for breakfast, you'll be well prepared for World Egg Day.
Eggs Scrambled with Asparagus, Bacon and Swiss Cheese
This recipe will be a great way to start out your day, and it will work for individuals following all Atkins Phases. In addition, this recipe only has 3.6 carbs in one serving. More importantly, this dish has bacon in it! The flavors of bacon, Swiss cheese, and asparagus will combine perfectly for a smoky but fresh-tasting dish.
Eggs Scrambled with Feta and Spinach
This is another delicious egg recipe for breakfast that is very low in carbs—it has 2.3 net carbs per serving. In fact, this recipe is approved for all phases of the Atkins diet. Tangy feta cheese adds the perfect flavor to this meal. On its own, feta can sometimes be too strong, but when combined with eggs, it adds just the right amount of seasoning. Spinach tastes good when added to eggs and will make this dish even more nutritious.
Poached Eggs over Tomato, Avocado and Muenster
If you're not a fan of scrambled eggs, then this low carb recipe could be perfect for you. This recipe (with 4.9 net carbs per serving) is also approved for all phases of the Atkins diet. The sweetness of the tomato, the creaminess from the avocado, and the saltiness of the cheese will make this egg recipe stand out.
While the previous recipes all make for amazing egg recipes for breakfast or brunch, Smoked Sausage Deviled Eggs will be an incredible party appetizer or snack. Tabasco sauce, barbecue sauce, and smoked beef sausage will spice up the picnic classic. Whether you bring this dish to your next get together or simply decide to snack on these deviled eggs on World Egg Day, you will be right on track for losing weight. This dish will work for those following any phase of the Atkins plan because each serving has only 2.3 net carbs.
Celebrate World Egg Day with a sweet, egg-y dessert—Cinnamon Custard. Don't worry about this being a dessert, though! Anyone who is following Atkins Phases 2, 3, or 4 can eat it since it has 4.9 net carbs per serving. This rich custard is perfectly accented by the warm smell of cinnamon and will be a fantastic way to end your day.
Whether you try one of the above low-carb recipes or you make your own egg dish, make sure to celebrate World Egg Day!