Poached Eggs over Tomato, Avocado and Muenster Recipe
---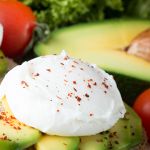 3.8g
Net Carbs
Prep Time: 5 Minutes
Style:American
Cook Time: 5 Minutes
Phase: Phase 1
Difficulty: Moderate
* Any adjustments made to the serving values will only update the ingredients of that recipe and not change the directions.

How to Calculate Atkins Net Carbs
How to Calculate Atkins Net Carbs
Atkins Net Carbs = Total Carbohydrates – Fiber – Sugar Alcohols/Glycerin (if applicable)
×
---
INGREDIENTS
0 1/3 medium whole (2-3/5" dia) Red Tomatoes

2 large Egg (Whole)

1 oz MUENSTER CHEESE

0 1/2 fruit without skin and seeds California Avocados
DIRECTIONS
Poach eggs: add 2 to 3 inches of water with a pinch of salt to a saucepan. Bring to a boil; then turn down heat and allow water to simmer until barely any bubbles remain around the edges. Crack an egg into a cup and carefully slide it into the water. Cook 2 minutes for a runny yolk, 3 minutes for medium firmness and 4 minutes for a firm yolk. Remove with a slotted spoon. Gently pat with a paper towel to remove excess water.  

Slice tomato and avocado.  Place tomato slices on a plate, top with avocado, cheese and finally the eggs. 

Sprinkle with paprika (if desired), and season to taste with salt and freshly ground black pepper.
Cooking Tip
Whether you're feeding a family or cooking for one, you can update the serving settings above to reveal the required amount of ingredients.
Featured Low Carb Recipes