It's time to kick off summer fun by firing up the grill with delicious low carb burgers. Whether you're celebrating National Burger Day on May 28 or planning a Memorial Day picnic, protein-packed burgers are on this weekend's menu. Just because you're working to reach your #HappyWeight doesn't mean you have to skip your grill-out favorites—there's something for everyone! Get your friends and family together for a cookout to celebrate the start of summer with these low carb burger recipes: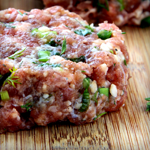 Beef Burger with Feta and Tomato
This National Burger Day, add a little Mediterranean inspiration to your cookout and try a beef burger with feta and tomato. These low carb patties are simple to make by combining ground beef with green onion, spinach, tomato, feta, dill, salt, and pepper. This is a fun grilling style that makes you look at toppings in a new way, by cooking them into your beef patty. Each serving contains 24.3g protein and 1.3g net carbs.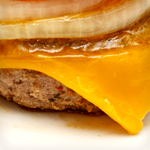 Cheddar Burger with Sautéed Mushrooms and Onions
Our cheddar burger with sautéed mushrooms and onions is a low carb take on an American classic. While grilling your burger, saute mushrooms and onions in a skillet to desired tenderness (you could even pre-make this if you're grilling somewhere other than home). Toss the mixture on your burger patty and then top with cheddar. Each serving contains 42.2g protein and 3.7g net carbs.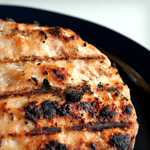 Grilled Salmon Burgers with Dill Sauce
Burger patties don't always have to be made with beef. Mix it up on National Burger Day with grilled salmon burgers with dill sauce. Add some zest from fresh lemons and other spices to make these flavorful burger patties your new cookout favorite. Each serving contains 27.1g protein and 3.5g net carbs.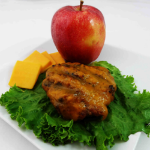 Chipotle-Apple Turkey Burgers
Bring together spicy, savory, and fruity ingredients with these chipotle-apple turkey burgers. Your friends and family will love the unexpected combination of flavor packed in these unique patties. You can even top off your prepared turkey burgers with some sliced cheddar cheese for a finishing touch. Each serving contains 35.1g protein and 6.4g net carbs.
Grilled Burger with Avocado and Tomato
Burger, avocado, and tomato—now that's an amazing summer trio we can get behind. Fresh tomato and healthy avocado make for great low carb burger toppings, and the healthy fats in avocado promote heart health. Our grilled burger with avocado and tomato recipe is simple and only takes 10 minutes to make. Each serving contains 30g protein and 2.6g net carbs.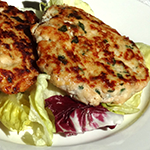 Spicy Thai Chicken Burgers
If you want to try a unique low carb burger recipe, these spicy Thai chicken burgers are the answer. Chicken patties seasoned with cilantro, lemon, garlic, and chili pepper flakes bring a new world of flavor that everyone will enjoy. Each serving contains 25.8g protein and 1.8g net carbs.
When you're on your weight loss journey with Atkins, you can celebrate holidays like National Burger Day and still eat the foods you love. Check out our low carb Memorial Day ideas for extra weekend cookout inspiration.