Low Carb Pizza Sauce Recipe
---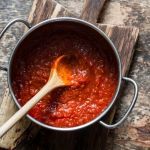 3.8g
Net Carbs
Prep Time: 10 Minutes
Style:Italian
Cook Time: 18 Minutes
Phase: Phase 1
Difficulty: Moderate
* Any adjustments made to the serving values will only update the ingredients of that recipe and not change the directions.

How to Calculate Atkins Net Carbs
How to Calculate Atkins Net Carbs
Atkins Net Carbs = Total Carbohydrates – Fiber – Sugar Alcohols/Glycerin (if applicable)
×
---
INGREDIENTS
0 1/2 cup, chopped Onions

1 tsp, leaves Basil (Dried)

0 1/4 tsp Crushed Red Pepper Flakes

1 clove Garlic, raw

0 1/4 tsp BLACK PEPPER

1 teaspoon SweetLeaf Stevia Sweetener (with inulin)

0 1/2 tsp Fennel Seed

28 oz Crushed Tomatoes (Canned)

0 3/4 tsp, leaves OREGANO

0 1/2 tsp SALT

2 tablespoon EXTRA VIRGIN OLIVE OIL

4 tbsp TOMATO PASTE
DIRECTIONS
Keep the carb count of your pizza night low with this tasty, sugar-free & keto-friendly pizza sauce.
In a medium sauce pan heat the olive oil over medium heat.  Crush the garlic and add it to the pan along with the yellow onions.  Sauté until translucent; about 4 minutes  
Add the tomato paste, basil, oregano, fennel, granular sugar substitute, salt, black pepper and chili flakes (optional).  Cook while stiring for 1-2 minutes.    
Add crushed tomatoes and continue to cook over medium heat until heated through; 3 minutes.  Turn heat to low and simmer for 10-15 minutes until thick.  Remove from heat and use immediately or cool to room temperature and place into an air tight storage container in the refreigerator for up to one week or freeze for up to 1 month.  Makes about 3 cups, enough for 2 pizzas or 16 slices.  Each serving is about 3 Tbsp (nutritionals reflect 1 serving).  If it is too sweet add a dash of lemon juice to balance flavors.
Cooking Tip
So you've nailed how to make pizza sauce - now it's time to assemble your pizza! Try making your own Atkins-approved <a href="https://www.atkins.com/recipes/atkins-pizza-dough/898">pizza dough</a>, and get creative with your favorite low carb toppings like veggies, lean proteins, and cheese. <b> </b>
Featured Low Carb Recipes