Turkey isn't just for Thanksgiving. Ground turkey recipes make for delicious and low carb meals year-round. That's because ground turkey is an incredibly versatile ingredient that's easy to cook with, whether you're making a breakfast hash or tasty burger. If sticking to a healthy diet is a personal goal, then Atkins has four easy and healthy ground turkey recipes to help you maintain your diet.
4 Easy & Healthy Low Carb Ground Turkey Recipes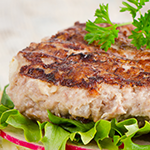 1. Spinach and Feta Turkey Burger Recipe
Our Spinach & Feta Turkey Burger recipe is a fan favorite. With this recipe, prepare lunch or dinner in just 35 minutes. Feta and spinach add flavor and color. Each patty has just 0.8g net carbs, making this ground turkey recipe safe for all phases of the Atkins diet.
2. Stuffed Eggplant Recipe
This Stuffed Eggplant with Ground Turkey Recipe is another delicious low carb dinner option. Did you know that one half of an eggplant has just 60 calories and seven grams dietary fiber? It makes a carb-conscious and delicious vehicle for ground turkey, mozzarella, and tomato sauce in this recipe. One serving has 9.8g net carbs and is approved for individuals following Atkins Phases 3 or 4.
3. Turkey-Cauliflower Hash Recipe
Our Turkey-Cauliflower Hash Recipe is perfect for breakfast, lunch, or dinner. Cauliflower florets, onion, thyme, and turkey breast all come together in an easy ground turkey recipe that's approved for all phases of the Atkins diet with just 4.2g net carbs per serving.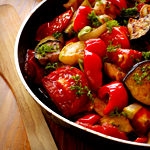 4. Turkey Ratatouille Recipe
Our Turkey Ratatouille Recipe makes for a comforting winter meal. This variation calls for turkey, eggplant, zucchini, red bell pepper, mushrooms, garlic, tomatoes, and basil. It's suited for all phases of Atkins and has 8.7g net carbs per serving.
We have more than just recipes to help you on your low carb journey. Register today for support groups, tools, and apps.