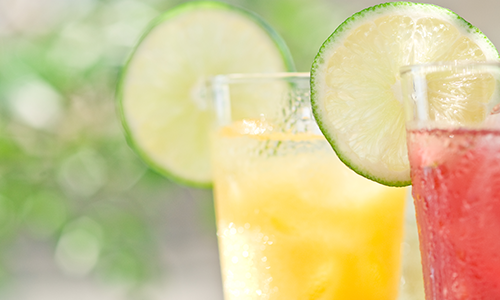 Spring weather means it's time to put down the mug of hot chocolate and pick up a glass of something cool and refreshing. Enjoying healthy drinks is an excellent way to stay hydrated as well as provide your body with important nutrients it needs.
There are plenty of low carb drinks that will not only keep you cool this spring, but can also contribute to low carb weight loss. Try out some of Atkins' favorite healthy low carb drinks below (they're allowed in all phases of Atkins) and discover how refreshing low carb weight loss can be:
Morning Drinks
If you're looking for a morning pick-me-up, try one of these low carb drinks. They're cheaper than heading to your local coffee shop, but equally delicious!
Coffee Frappé – This coffee-shop essential uses vanilla protein powder for a sweet, low carb way to start your day.
Iced Chai Tea – If you're more of a tea person than a coffee person, try this low carb spiced chai treat.
Drinks to Satisfy Your Fruit & Veggie Craving
Increase your produce intake with these healthy veggie and fruit-flavored drinks.
Raspberry-Lime Fizz – Mix raspberry syrup and lime juice for a tart, sweet combo that tastes just as good as it looks.
Avocado Gazpacho Smoothie – If you think goat cheese and avocados are only for salads, think again! They're also amazing in this savory low carb smoothie.
Coconut Vanilla Shake – Not all milkshakes are unhealthy; this version uses coconut milk and protein powder instead of ice cream.
Drinks to Cool You Off Instantly
Spring can get toasty, so make sure you're constantly drinking to stay hydrated! One of these chilled low carb drinks is sure to do the trick.
Iced Mint Tea – Iced tea is definitely a spring and summer drink, and the twist of mint in this recipe adds great flavor.
Pina Colada – This non-alcoholic classic is a fun way to cool off on a warm spring day.
Lemonade – Avoid store-bought lemonades that are often high in sugar and make this low carb version at home instead.
Sweet Drinks for Dessert
Skip the high-carb cookies and try one of Atkins' low carb drinks for a sweet but healthy twist on dessert.
Root Beer Float – Made with sugar-free syrups, heavy cream and seltzer water, this old-fashioned drink tastes indulgent while still being low carb.
Chocolate-Cream Frosty – This low carb twist on a fast food favorite is sure to satisfy any chocolate craving.
Don't let high carb drinks ruin your diet this spring; stick with Atkins low carb drinks to keep your body refreshed and on the path to healthy weight loss. And make sure to check out our recipe database to find additional healthy drinks and low carb recipes.