---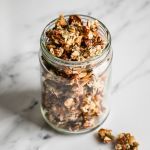 3.8g
Net Carbs
Prep Time: 25 Minutes
Style:American
Cook Time: 30 Minutes
Phase: Phase 2
Difficulty: Moderate
* Any adjustments made to the serving values will only update the ingredients of that recipe and not change the directions.

How to Calculate Atkins Net Carbs
How to Calculate Atkins Net Carbs
Atkins Net Carbs = Total Carbohydrates – Fiber – Sugar Alcohols/Glycerin (if applicable)
×
---
INGREDIENTS
0 1/3 cup (8 fl oz) Water, tap

2 tbsp *Flax Seed Meal (ground flax)

2 Tbsp Chia Seeds

1 cup, whole Almonds

1 cup, halves Pecans

4 Tbsp Pumpkin Seeds (Pepitas), hulled, raw

0 1/4 cup Coconut, shredded, unsweetened

0 1/4 cup Hemp Hearts

1 white Egg White

1 1/2 tsp Vanilla Extract

2 tbsp Butter, salted

0 1/3 cup Erythritol

1 teaspoon SweetLeaf Stevia Sweetener (with inulin)

0 1/2 tsp Cinnamon, ground
DIRECTIONS
Preheat oven to 325°F and line a sheet pan with parchment paper.
Warm the water for 30 seconds in the microwave or on stove top until steaming. Soak the chia and flax meal in the water while you are preparing the rest of the recipe, or for about 15 minutes.
Roughly chop the almonds and pecans so that no nuts are left whole, but there are some large chunks and place in a large bowl. Roughly chop the pumpkin seeds, leaving some whole, and add to the bowl with the almonds. Add the coconut and hemp hearts to the bowl and toss to combine.
In a small bowl, whisk the egg white until frothy. Add the vanilla and whisk to incorporate. Add the melted butter to the flax and chia mixture and use a fork to combine until well incorporated. Add the flax mixture to the egg white and whisk to fully combine.
Pour the egg white and flax mixture over the nuts and mix until well combined and all the nuts have some coating.
Combine the sweeteners and cinnamon in a small bowl and toss or mix until well combined. Set aside 1 tablespoon. Sprinkle about half of the remaining sweetener and cinnamon over the nuts and mix to combine. Then repeat with the remaining sweetener, mixing until well combined.
Spread the nut mixture onto the baking sheet and flatten to at least ¼-inch thick. Bake for 30-35 minutes, watching closely for the last 5 minutes to ensure it does not burn. Let cool for at least 10 minutes, or until it reaches room temperature. Then break it up and serve over yogurt or with cold milk of your choice, or store in a glass jar for up to 5 days. 
Featured Low Carb Recipes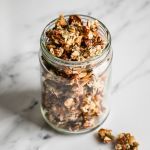 Keto Granola