Keto Baked Cheese Crisps Recipe
---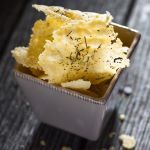 0.7g
Net Carbs
Prep Time: 5 Minutes
Style:American
Cook Time: 10 Minutes
Phase: Phase 1
Difficulty: Moderate
* Any adjustments made to the serving values will only update the ingredients of that recipe and not change the directions.

How to Calculate Atkins Net Carbs
How to Calculate Atkins Net Carbs
Atkins Net Carbs = Total Carbohydrates – Fiber – Sugar Alcohols/Glycerin (if applicable)
×
---
INGREDIENTS
0 1/2 oz Tillamook Pepper Jack Cheese

2 tablespoon(s) Cheddar cheese, shredded (1 tbsp= 7 g)

14 grams Mexican blend cheese, shredded (7 g= 1 Tbsp)

0 1/4 oz Gruyere Cheese

14 grams Comte cheese, shredded (7 g= 1 tbsp)

0 1/16 tsp Garlic Powder

0 1/16 teaspoon Italian Seasoning

0 1/8 tsp Tabasco
DIRECTIONS
Preheat oven to 325°. Use a small glass to trace 10 circles, 2-inches in diameter with 1-inch between, on a piece of parchment that will fit on a baking sheet. Flip the parchment so the ink side is down and place on the baking sheet.

Place 1 tablespoon of one type of shredded cheese (7 grams) in the center of each circle, spreading to create an even layer over the traced circle. Repeat to fill each circle on the parchment.

If desired, sprinkle 1 pinch of garlic powder over each of the pepper jack circles. Sprinkle 1 pinch of Italian seasoning over each of the gruyere circles. Drip 1/16  teaspoon hot sauce over each of the Mexican blend circles.

Bake cheese for 8 minutes or until edges are browning. Cool on the baking sheet for 5 minutes, then gently pat between paper towels and allow cool completely. One serving is one crisp of each type of cheese (5 total).
Note:
the softer cheeses (cheddar, pepper jack and Mexican blend) result in more chewy crisps, while the harder cheeses (gruyere and comte) will result in more crunchy crisps.