---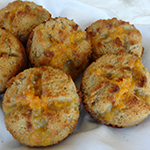 3.2g
Net Carbs
Prep Time: 10 Minutes
Style:Other
Cook Time: 25 Minutes
Phase: Phase 1
Difficulty: Difficult
* Any adjustments made to the serving values will only update the ingredients of that recipe and not change the directions.

How to Calculate Atkins Net Carbs
How to Calculate Atkins Net Carbs
Atkins Net Carbs = Total Carbohydrates – Fiber – Sugar Alcohols/Glycerin (if applicable)
×
---
INGREDIENTS
1 tbsp Tap Water

1 tsp Bakers Yeast (Active Dry)

2 large Egg (Whole)

0 1/4 cup Coconut Milk Unsweetened

0 1/4 cup Unsalted Butter Stick

1 tsp Vanilla Extract

6 tbsp Xylitol

1 cup Almond Meal Flour

1 /4 cup Organic High Fiber Coconut Flour

0 3/4 tsp Baking Powder (Straight Phosphate, Double Acting)

0 1/2 tsp Salt

0 1/2 tsp Allspice Ground

0 1/4 tsp Cloves (Ground)

0 1/4 tsp Ginger (Ground)

1 tbsp Heavy Cream

1 tsp Orange Zest
DIRECTIONS
Preheat oven to 350°F.  Grease 7 wells of a muffin tin.  
In a small nonreactive bowl place 1 tablespoon warm water with 1 teaspoon active dry yeast.  Allow to sit until bubbly; about 1 minute.  In the same bowl whisk in the eggs, coconut milk, butter, vanilla and 4 tablespoons (or 1/4 cup) xylitol.  Set aside. 
In a larger bowl combine and blend thoroughly the almond flour, coconut flour, baking powder, salt, allspice, cloves and ginger.  Add the egg mixture to the flour mixture and stir with a fork until blended.  Allow to sit for about 3 minutes.  
Using an ice cream scoop, divide dough into 7 wells of the muffin tin.  Using a spatula or sharp knife cut an X into the top of each muffin.  Bake for 25-30 minutes until puffed and golden on top.  Rest for 5 minutes in the tin then remove to a wire rack to cool completely.  When cool drizzle icing over the tops. 
Icing:  in a small glass bowl combine 2 tablespoons xylitol with 2 teaspoons heavy cream.  Place in the microwave for 15 seconds and stir until the xylitol dissolves.  Add 1 teaspoon orange zest and an additional 1 teaspoon of heavy cream if necessary to get it to a semi-thick consistency.  Serve immediately. or store in an airtight container for up to one week in the refrigerator; warm to room temperature or heat in the microwave slightly before serving.
Cooking Tip
We love the idea of customizing this recipe to make it your own! If you add any ingredients, just be sure to keep an eye on net carbs.
Featured Low Carb Recipes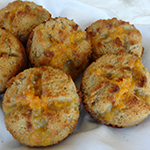 Hot Cross Buns