Eggplant and Red Pepper Sauté Recipe
---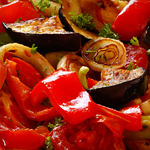 6g
Net Carbs
Prep Time: 5 Minutes
Style:Other
Cook Time: 18 Minutes
Phase: Phase 1
Difficulty: Difficult
* Any adjustments made to the serving values will only update the ingredients of that recipe and not change the directions.

How to Calculate Atkins Net Carbs
How to Calculate Atkins Net Carbs
Atkins Net Carbs = Total Carbohydrates – Fiber – Sugar Alcohols/Glycerin (if applicable)
×
---
INGREDIENTS
0 1/4 cup Extra Virgin Olive Oil

1 eggplant, unpeeled (approx 1-1/4 lb) Eggplant

1 small Onions

1 medium (approx 2-3/4" long, 2-1/2" dia) Sweet Red Peppers

1 tsp Garlic

1 cup Diced Tomatoes

1 tbsp Fresh Lemon Juice

1 teaspoon Sucralose Based Sweetener (Sugar Substitute)
DIRECTIONS
Japanese eggplants may be substituted for a regular eggplant in this recipe.
Heat 2 tablespoons oil in a large skillet over medium-high heat.  Cut eggplant into cubes.  slice onion and red pepper and set them aside.
Cook eggplant cubes 5 minutes, until golden. Transfer to a bowl.  
Add remaining oil to skillet. Cook white onion and red pepper 5 minutes, until vegetables are softened. Add minced garlic and cook 1 minute more. Mix in tomatoes, lemon juice, and sugar substitute.
Return eggplant to skillet; cook 6-8 minutes, stirring occasionally, until vegetables are tender, and sauce thickens slightly. Season to taste with salt and pepper.
Cooking Tip
Whether you're feeding a family or cooking for one, you can update the serving settings above to reveal the required amount of ingredients.
Featured Low Carb Recipes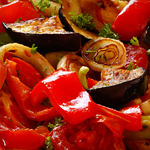 Eggplant and Red Pepper Sauté