Easy Low Carb Turkey Cabbage Chili
---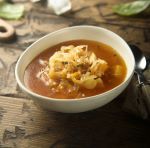 8.7g
Net Carbs
Prep Time: 5 Minutes
Style:American
Cook Time: 20 Minutes
Phase: Phase 2
Difficulty: Moderate
* Any adjustments made to the serving values will only update the ingredients of that recipe and not change the directions.

How to Calculate Atkins Net Carbs
How to Calculate Atkins Net Carbs
Atkins Net Carbs = Total Carbohydrates – Fiber – Sugar Alcohols/Glycerin (if applicable)
×
---
INGREDIENTS
1 1/2 Tbsp Canola Oil

2 Tbsp Yellow Onion (chopped)

1 each Garlic, clove

4 oz Ground Turkey

1 Tbsp Chili powder

0 1/4 tsp Salt

0 1/8 tsp Cumin seed, ground

1 cup Green or White Cabbage, raw, shredded

0 1/2 cup Tomatoes, canned, diced, in juice

0 1/2 cup Beef broth, bouillon, consomme
DIRECTIONS
In a medium saucepan over medium heat, warm the oil. Add onion and sauté until translucent, about 2 minutes. 
Add diced or pressed garlic and sauté until fragrant, about 30 seconds. Add ground turkey and cook, breaking up gently, until cooked through, about 4 minutes. 
Sprinkle on the salt, cumin, and 1/3 of the chili powder and mix until evenly coated and fragrant. Chop cabbage into bite size pieces, add to the sauce pan, and mix until evenly coated.
Pour in the tomatoes and broth, increase heat to bring to a boil, then reduce to a simmer and cook for 5 minutes, or until the cabbage is tender. Taste and adjust chili powder and salt as desired, serve warm. Each serving is about 2 cups.