Cauliflower and Green Bean Stir-Fry with Oyster Sauce Recipe
---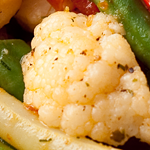 5.2g
Net Carbs
Prep Time: 15 Minutes
Style:Asian
Cook Time: 10 Minutes
Phase: Phase 2
Difficulty: Difficult
* Any adjustments made to the serving values will only update the ingredients of that recipe and not change the directions.

How to Calculate Atkins Net Carbs
How to Calculate Atkins Net Carbs
Atkins Net Carbs = Total Carbohydrates – Fiber – Sugar Alcohols/Glycerin (if applicable)
×
---
INGREDIENTS
1 1/4 lb Cauliflower

4 oz Green Snap Beans

2 tbsp Tamari Soybean Sauce

1 teaspoon Sucralose Based Sweetener (Sugar Substitute)

2 tbsp Canola Vegetable Oil

2 tsp Ginger

1 each Garlic, clove

3 medium (4-1/8" long) Scallions or Spring Onions

0 1/4 cup Tap Water

2 tbsp Oyster Sauce

0 1/8 cup, slivered Almonds
DIRECTIONS
Steam or boil cauliflower and green beans 6-7 minutes, until tender; drain. Place in a large bowl, add soy sauce and sugar substitute; toss to coat.
Heat oil in a wok or large skillet over medium-high heat. While oil is heating mince the ginger and garlic then add to the hot oil. Stir-fry until fragrant, about 15 seconds. Add Dice the green onions and add to the pan.  Continue to cook until green onions soften, about 2 minutes. Add cauliflower and green beans; mix well. Add water and oyster sauce; bring to a boil. Cook 1-2 minutes.
Transfer to a serving bowl; sprinkle with almonds.
Cooking Tip
Whether you're feeding a family or cooking for one, you can update the serving settings above to reveal the required amount of ingredients.