Asian Vegetable Bowl Recipe
---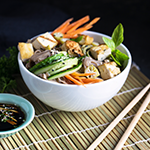 7.4g
Net Carbs
Prep Time: 10 Minutes
Style:Asian
Cook Time: 10 Minutes
Phase: Phase 1
Difficulty: Difficult
* Any adjustments made to the serving values will only update the ingredients of that recipe and not change the directions.

How to Calculate Atkins Net Carbs
How to Calculate Atkins Net Carbs
Atkins Net Carbs = Total Carbohydrates – Fiber – Sugar Alcohols/Glycerin (if applicable)
×
---
INGREDIENTS
3 cup, chopped Scallions or Spring Onions

1 clove GARLIC Iberia Foods Corporation

1 pepper Serrano Pepper

0 1/2 oz Cilantro (Coriander)

1 cup, chopped or sliced Red Tomatoes

3 tsp GINGER Fuji Food Products Inc.

2 cup Mushroom Pieces and Stems

4 tbsp Tamari Soybean Sauce

6 cup Chicken Broth, Bouillon or Consomme

6 oz Firm Silken Tofu

2 cup, shredded Chinese Cabbage, Bok choy, Pak-Choi

1 carrot (7-1/2") CARROTS Safeway, Inc.
DIRECTIONS
To make this soup suitable for earlier phases, simply omit the carrot. Also vegetable broth may be substituted for the chicken broth to make it appropriate for Vegetarians and Vegans.  
In a large saucepan, bring broth and tamari to a boil.
Reduce heat; add bok choy, mushrooms, ginger, garlic (minced) and chili. Simmer for 5 minutes, until bok choy is tender but still crisp and mushrooms are softened.
Add tomatoes, green onions, tofu and carrot. Heat through for 1 minute. Stir in cilantro just before serving.
Cooking Tip
Whether you're feeding a family or cooking for one, you can update the serving settings above to reveal the required amount of ingredients.
Featured Low Carb Recipes