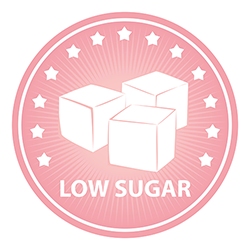 The dietary benefits of a low sugar diet are numerous. Reducing sugar consumption ignites fat burning and can also help deter a variety of health concerns, including obesity, heart disease, and liver damage. To boot, dieters report feeling less deprived on a diet like Atkins, as compared to other diets.
Eating Tips for Starting a Low Sugar Diet
Though the reasons to start a low sugar diet are clear, sometimes actually getting started can feel overwhelming. Below, we've broken down the foods you can eat, the foods you should avoid, and the surprising foods low in sugar you can still eat on Atkins. Think of this as your low sugar stoplight: these are your green, red, and yellow light foods.
Foods to Eat on a Low Sugar Diet
Non-Starchy Veggies: When it comes to veggies, there are a bounty of options to explore whether you're on Atkins 20® and Atkins 40®. As you start to cut sugar foods out of your diet, experiment with the foundation vegetables that are named on our List of Acceptable Foods.
Protein: From eggs to fish to poultry and red meat, most animal proteins contain minimal carbs, perfect for a low sugar diet. Beans should be limited, but vegetarians and vegans have plenty of other Atkins-friendly protein sources to enjoy.
Fats & Oils: Like proteins, fats and oils contain close to zero net carbs in most cases. They're also integral to the absorption of vitamins and minerals and help you feel full longer.
Cheese: Cheese does contain carbs, but only about one gram per ounce. In moderation it is a great source of protein.
3 High Sugar Foods to Avoid on a Low Carb Diet
Breads and Pastas: When you're starting out on a low carb diet, you'll want to avoid breads and pastas. (As you lose weight, you'll be able to reintroduce limited amounts of these foods.) Lettuce wraps and spaghetti squash offer great substitutes!
Starchy Vegetables: Potatoes and other starchy vegetables are best avoided when you first begin a low sugar diet, but there's a world of other vegetables you can bake, mash, and serve au gratin, as noted above.
Fruits: Fruits contain high amounts of fructose, a naturally occurring sugar, so leave them out of your diet when you're just starting out.
Atkins Approved Foods You Can Eat on a Low Sugar Diet
It may be hard to believe, but you can eat pizza and cookies on Atkins. Just follow the Atkins approved recipes below.
Pizza: For the crust in this pizza recipe, you'll use Atkins all-purpose low carb baking mix (also available without gluten). The peppers, sausage, and onions add color and flavor, while the completed dish contains just 6.2 grams of net carbs per serving.
Mexican Food: Beef fajitas with peppers pack plenty of flavor that will make you forget you are on a diet. Approved for phases two, three, and four, this recipe omits sugar and has only 10.9 grams of net carbs.
Cookies: These low sugar cookies from Atkins use sucralose, a sugar substitute, so they taste great while helping you stay on your diet. They use the same baking mix as the pizza and contain only 1.7 grams of net carbs per serving.
Waffles: Flax waffles with turkey sausage for breakfast kick starts your metabolism and is approved for each phase of the Atkins program. Sugar-free syrup and only 3.8 grams of net carbs make this great for a low sugar diet.
Atkins offers an additional 1,600+ low carb recipes to help you maintain your low carb diet easily. Register with us today to get additional diet tips and access to free tools online!