It doesn't have to be National Sandwich Day (which is November 3, btw) for you to enjoy this classic lunchtime favorite. And low carb lifestyle lovers need not fret either! We've got you covered with healthy handheld alternatives. Here are a few ideas and recipes for our favorite low carb wraps.
Roast Beef and Cheddar Flatout Wrap
With roast beef, cheddar cheese, red onions, peppers, tomatoes, and lettuce, these wraps are a great option for those following Phases 3 or 4 of the Atkins diet. Ready in less than 10 minutes, these low carb wraps are also packed with 39.2g of protein per serving.
Chicken Salad Wraps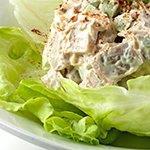 Skip the traditional wrap and slices of bread, and roll up these keto-friendly wraps with lettuce. The flavorful chicken salad is made with celery, mayonnaise, mustard, parsley, and chicken breast and is topped with radishes and paprika. With only 0.4g net carbs but packed with 33.8g of protein per serving, these chicken salad lettuce wraps are delicious and satisfying.
Disclaimer: This recipe can be part of a ketogenic eating plan as long as the proteins and fat percentages are met the rest of the day.
Roast Beef, Red Bell Pepper, and Provolone Lettuce Wraps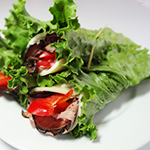 For another take on the lettuce wrap, enjoy this low carb wrap recipe made with roast beef, provolone cheese, red bell pepper, lettuce, mayonnaise, and horseradish. With only 2.7g net carbs per serving, these healthy wraps are approved for those who are currently following any of the phases of the Atkins diet.
Bacon-Egg Salad Flatout Wrap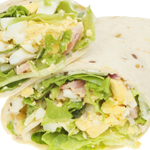 : For a tasty spin on a classic, try this bacon and egg salad flatout sandwich made with easy-to-assemble ingredients like hard boiled eggs, turkey bacon, mayonnaise, mustard, and lettuce. These low carb wraps have 8.6g net carbs and 34.2g of protein per serving.
—
Those who are following a low carb diet shouldn't feel like they're missing out on anything! Check out over 1,600 of the easy low carb recipes we've created to help you enjoy the foods you love while still keeping up with your low carb diet and weight loss journey.