Dig into a delicious low carb pizza in honor of National Pizza Day. Forgo your usual pizza joint and make a pie at home. Browse our list of Atkins low carb pizza crust recipes and low carb pizza ideas for inspiration.
Low Carb Pizza Crust Recipes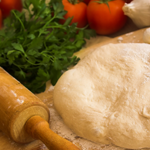 If you're looking for a classic low carb pizza crust, here's the place to start. Made with Atkins All-Purpose Low-Carb Baking Mix, baking powder, salt, water, and extra virgin olive oil, this recipe is a cinch to make. Be sure to pre-bake the crust at 425⁰F before you add your toppings. One serving of this crust contains 14.2g of protein, 8.2g of fat, 2.3g of fiber, 3.9g of net carbs, and 150.3 calories.

Almond Thin and Crispy Pizza Crust
Make a crispier pie with this low carb pizza crust. This nutty crust is made from blanched almond flour; oregano, dried basil, and crushed red pepper flakes add zesty flavor. One serving features 5.7g of protein, 13.5g of fat, 6.7g of fiber, 4g of net carbs, and 173.9 calories.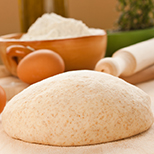 If you prefer a chewier crust, opt for this recipe, made with eggs and 100% whole ground golden flaxseed meal. There are 6.9g of protein, 13.7g of fat, 6.1g of fiber, 2g of net carbs, and 164.8 calories per serving.
Low Carb Pizza Recipes
Atkins Cuisine Pizza with Sausage, Bell Peppers and Onions
Looking for a quintessential pizza recipe? Dig into this classic low carb pizza topped with sausage, bell peppers, and red onion. One serving contains 19.4g of protein, 13.8g of fat, 3g of fiber, 6.9g of net carbs, and 235.1k calories.
Switch up your usual pizza order with this low carb recipe. With barbecue sauce instead of tomato sauce, this recipe has an interesting kick. It also has plenty of protein, thanks to the chopped boneless chicken. One serving features 22.6g of protein, 13.1g of fat, 2.7g of fiber, 6.3g of net carbs, and 239.5 calories.
This low carb pizza does away with traditional pizza crust entirely. Instead, the pizza base is a baked portobello mushroom cap, topped with tomato sauce and cheese. One serving contains 6.4g of protein, 3.3g of fat, 1.2g of fiber, 3.2g of net carbs, and 68.7 calories.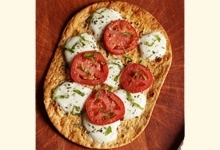 Tomato-Basil Thin-Crust Flatout Pizza
If you're into flatbreads, this is the recipe for you. Top one Light Original Flatbread with mozzarella cheese, tomato, and a homemade marinade of basil, vinegar, olive oil, and garlic salt. One serving features 28.4g of protein, 27.3g of fat, 8.8g of fiber, 11g of net carbs, and 422.8 calories.
With Atkins® products and low carb recipes, losing weight just got easier. Sign Up for our Newsletter to get our latest recipes and updates.