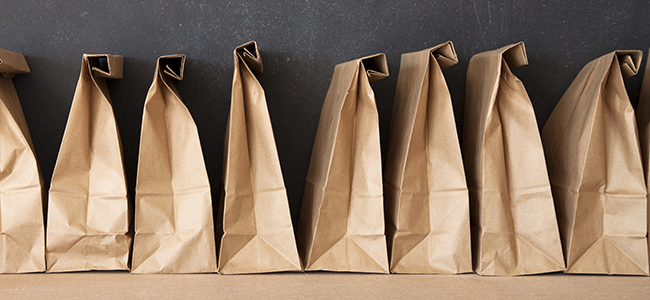 Packing your lunch is one of the best ways to watch your carbs (and your wallet). With back-to-school season in full swing, there's no better time for adults to take a cue from the kids and up their brown bag lunch game. Get inspired with some of our favorite options below.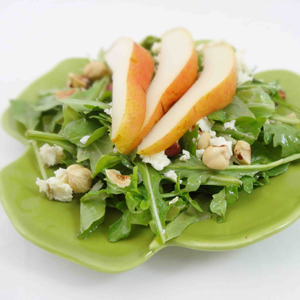 Arugula, Pear, and Hazelnut Salad
PB&J may be a brown bag lunch staple for kids, but adults deserve more sophisticated fare, such as this light salad. The sweetness of pear perfectly cuts the peppery taste of arugula, while creamy gorgonzola and crunchy hazelnuts add texture. Keep the pear separated from the other ingredients until you're ready to eat and/or sprinkle with a bit of lemon juice to prevent browning. One serving contains 7.7g of protein, 20.6g of fat, 4.9g of fiber, 8.1g of net carbs, and 252 calories. If you're really craving that PB&J, toss one of our peanut butter and jelly thumbprint cookies into your bag.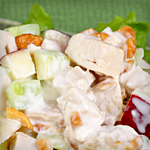 Chicken Salad Sandwich with Grapes and Walnuts
Back-to-school season is prime time for going back to basics, such as sandwiches—but basic shouldn't mean bland or boring. This classic mixture of tender chicken, juicy grapes, and crunchy walnuts will power you through the mid-afternoon slump. Each serving has 31.7of protein, 38g of fat, 3.5g of fiber, 13g of net carbs, and 504.3 calories. To reduce carbs, wrap chicken salad in leaves of butterhead lettuce.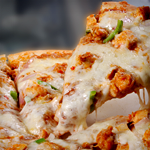 Atkins Cuisine Barbecue Chicken Supreme Pizza
With a little legwork at the start of the week, you can savor pizza for lunch all week long. Set aside some time Sunday afternoon to whip up this perfectly tangy barbecue pizza topped with chicken, mozzarella, and green pepper. Atkins' all purpose baking mix keeps it low on carbs. In each slice, you'll find 22.6g of protein, 13.1g of fat, 2.7g of fiber, 6.3g of net carbs, and 239.5 calories.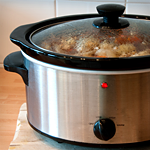 This hearty soup requires just ten minutes of prep before you toss it in the crockpot, making it another great recipe to whip up on Sunday afternoon and eat throughout the week. The soup bursts with carrots, zucchini, and snap beans, so it's a great option for vegetarians. If you're looking for protein, toss in chunks of tofu or beef. There are 4g of protein, 0.3g of fat, 3.8g of fiber, 8.9g of net carbs, and 60.8 calories per bowl.