Blueberries are one of those wonder foods: colorful, tasty, and good for you. Indeed the health benefits of blueberries include promoting strong bones, preventing cancer and heart disease, and boosting memory. It's no surprise then that they get their very own month—July marks National Blueberry Month.
Blueberries are versatile, too. While it's fun to pop the juicy berries straight into your mouth, branch out with one of the four recipes below. Whether sweet or savory or meant for breakfast or dinner, they demonstrate the blueberry's versatility.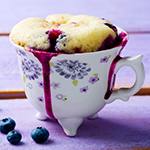 For Breakfast: Blueberry Cloud Muffin
Shake off the morning cobwebs with this fluffy muffin. It just might make the perfect breakfast: whey powder and an egg help keep you satisfied through the morning. Plus, the whole thing comes together in a single mug with just a few minutes in the microwave. There are 19.2g of protein, 15.1g of fat, 0.9g of fiber, 6.3g of net carbs, and 242 calories per serving.
For Happy Hour: Blueberry Cucumber Chiller
This crisp, summery cocktail combines tart blueberries with refreshing cucumber and aromatic rosemary. Make it a mocktail by subbing the ounce of gin out for club soda. In each serving, you'll find 0.7g of protein, 0.3g of fat, 1.1g of fiber, 5.3g of net carbs, and 92 calories.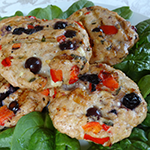 For Dinner: Blueberry Turkey Burgers
That's right: this savory dinner dish calls for blueberries. Liven up your standard turkey burger with ¾ cup of the superfood. Blueberries add major color and flavor alongside red pepper, feta, and mint.Each serving has 21.7g of protein, 13.8g of fat, 1.2g of fiber, 3.7g of net carbs, and 229 calories.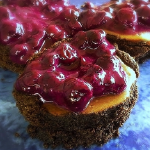 For Dessert: Blueberry Chocolate Cheesecake Tartlets
Blueberry cheesecake is a classic, and this variation incorporates chocolate for an indulgent treat. Almond flour and sucralose keep things low carb, so you can sink your teeth in without guilt. One serving contains 7.8g of protein, 20.8g of fat, 2.9g of fiber, 6.1g of net carbs, and 240 calories.