Spring Vegetable Soup Recipe
---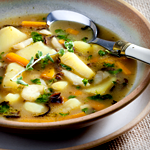 8.3g
Net Carbs
Prep Time: 10 Minutes
Style:American
Cook Time: 15 Minutes
Phase: Phase 2
Difficulty: Difficult
* Any adjustments made to the serving values will only update the ingredients of that recipe and not change the directions.

How to Calculate Atkins Net Carbs
How to Calculate Atkins Net Carbs
Atkins Net Carbs = Total Carbohydrates – Fiber – Sugar Alcohols/Glycerin (if applicable)
×
---
INGREDIENTS
3 tablespoon VEGETABLE OIL Topco Associates, Inc.

4 oz Snowpeas (Pea Pod)

1 large Summer squash

1 tsp LEMON PEEL Frontier Cooperative Herbs

3 14.5 oz can Chicken Broth, Bouillon or Consomme

0 1/4 tsp BLACK PEPPER Finlay Extracts & Ingredients USA, Inc.

4 each LEEKS Wegmans Food Markets, Inc.

0 1/2 lb ASPARAGUS Multiwipe International Inc.

0 1/4 cup PARSLEY Adams Extract Co.

0 1/2 tsp SALT Morton Salt, Inc.

14 1/2 fl oz Tap Water
DIRECTIONS
Heat oil in a large soup pot over medium-high heat.
Add leeks and cook 2 minutes, until softened, stirring occasionally. Add asparagus and cook 2 minutes, until color brightens.
Add squash and pea pods and cook 2 minutes, or until squash begins to soften. Add salt, pepper, broth and water; bring to a boil.
Reduce heat to low and simmer 5 minutes, until vegetables are tender. Just before serving, stir in parsley and lemon zest.
Cooking Tip
Did you know that you can easily portion out and freeze soup to save for a busy night down the road? When ready to reheat, either microwave or heat up in a pot over the stove with a splash of water.
Featured Low Carb Recipes