Keto Spinach Stuffed Turkey Breast Recipe
---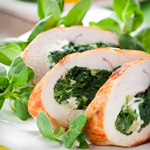 6.1g
Net Carbs
Prep Time: 15 Minutes
Style:American
Cook Time: 30 Minutes
Phase: Phase 2
Difficulty: Difficult
* Any adjustments made to the serving values will only update the ingredients of that recipe and not change the directions.

How to Calculate Atkins Net Carbs
How to Calculate Atkins Net Carbs
Atkins Net Carbs = Total Carbohydrates – Fiber – Sugar Alcohols/Glycerin (if applicable)
×
---
INGREDIENTS
1 tbsp Light Olive Oil

1 10 oz package Frozen Chopped Spinach

0 1/3 cup, crumbled Feta Cheese

4 medium (4-1/8" long) Scallions or Spring Onions

0 1/4 cup Ricotta Cheese (Whole Milk)

1 tbsp Parsley

0 1/2 oz Dill

0 1/2 tsp Salt

0 1/4 tsp Black Pepper

1 large Egg (Whole)

0 1/4 tsp Garlic Powder

0 1/4 tsp, leaves Thyme (Dried)

12 oz Turkey Breast Meat (Fryer-Roasters)
DIRECTIONS
Pre-heat oven to 350°F.

Grease an 8-inch-square baking dish with half the olive oil; set aside.

In a bowl, mix spinach, feta, ricotta, scallions, parsley, dill and egg until well combined.

Spread a quarter of the spinach mixture down the center of each turkey cutlet, leaving a border on all sides. Roll up and place seam-side down in prepared baking dish. Brush turkey rolls with remaining 1 1/2 teaspoon olive oil. Sprinkle with salt, pepper, garlic powder and thyme.

Bake about 30 minutes, until turkey is just cooked through and stuffing is heated.
Cooking Tip
Whether you're feeding a family or cooking for one, you can update the serving settings above to reveal the required amount of ingredients.