Spinach-Artichoke Dip Recipe
---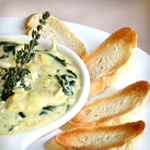 3.6g
Net Carbs
Prep Time: 10 Minutes
Style:Mediterranean/Greek
Cook Time: 30 Minutes
Phase: Phase 1
Difficulty: Moderate
* Any adjustments made to the serving values will only update the ingredients of that recipe and not change the directions.

How to Calculate Atkins Net Carbs
How to Calculate Atkins Net Carbs
Atkins Net Carbs = Total Carbohydrates – Fiber – Sugar Alcohols/Glycerin (if applicable)
×
---
INGREDIENTS
1 10 oz package Frozen Chopped Spinach

8 oz Cream Cheese

1 cup Parmesan Cheese (Grated)

1 tsp Garlic

0 1/4 tsp Black Pepper

1 can (14 oz), drained Cooked Artichoke (Canned)
DIRECTIONS
Pre-heat oven to 350°F and grease a 1-quart ovenproof pan.
Thaw spinach in the refrigerator for 12 hours, or in the microwave as directed on the package.
In a food processor combine cream cheese, Parmesan, garlic, and pepper until well mixed, scraping down sides of processor as needed. Add in spinach and artichokes and pulse to mix, leaving chunks of artichoke and spinach.
Spread mixture in prepared pan. Bake until warmed through, about 30 minutes. Serve hot with sliced vegetables. One serving is ½ cup dip.
Cooking Tip
For a spicy twist, add pickled jalapenos (note: The impact is low, but don't forget to calculate net carbs!).