Smoked Salmon, Tomato and Mozzarella Stack Recipe
---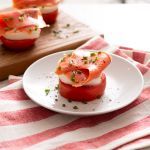 4.6g
Net Carbs
Prep Time: 5 Minutes
Style:American
Cook Time: 0 Minutes
Phase: Phase 1
Difficulty: Moderate
* Any adjustments made to the serving values will only update the ingredients of that recipe and not change the directions.

How to Calculate Atkins Net Carbs
How to Calculate Atkins Net Carbs
Atkins Net Carbs = Total Carbohydrates – Fiber – Sugar Alcohols/Glycerin (if applicable)
×
---
INGREDIENTS
4 oz Smoked Chinook Salmon (Lox)

2 oz Mozzarella Cheese, whole milk

1 medium whole (2-3/5" dia) Red Tomatoes
DIRECTIONS
Cut off stem end and bottom of tomato, then slice in half.
Layer a slice of cheese on each tomato half. Top each tomato with slices of salmon.
Season with freshly ground black pepper and garnish with a few snips of fresh chive.  Enjoy!
Cooking Tip
Whether you're feeding a family or cooking for one, you can update the serving settings above to reveal the required amount of ingredients.
Featured Low Carb Recipes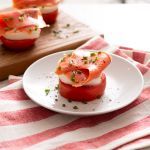 Smoked Salmon, Tomato and Mozzarella Stack