Sautéed Winter Greens Recipe
---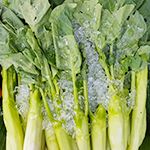 6.6g
Net Carbs
Prep Time: 25 Minutes
Style:American
Cook Time: 15 Minutes
Phase: Phase 1
Difficulty: Moderate
* Any adjustments made to the serving values will only update the ingredients of that recipe and not change the directions.

How to Calculate Atkins Net Carbs
How to Calculate Atkins Net Carbs
Atkins Net Carbs = Total Carbohydrates – Fiber – Sugar Alcohols/Glycerin (if applicable)
×
---
INGREDIENTS
1 lb KALE

1 lb Swiss Chard

2 tbsp Light Olive Oil

0 1/8 tsp Crushed Red Pepper Flakes

0 1/2 tsp SALT

1 small (5 per pound) Red Sweet Pepper

2 tbsp chopped Shallots
DIRECTIONS
Remove tough stems of the greens and coarsely chop. 
Bring a large pot of lightly salted water to boil. Add kale and Swiss chard; cook 3 minutes. Transfer to a colander and drain well.
In same pot, heat oil over medium-low heat. Add dice bell pepper and shallot. Cook until softened, about 5 minutes.
Return greens to pot; add salt, and red pepper flakes to taste. Sauté until greens are tender, about 5 minutes.
Cooking Tip
Whether you're feeding a family or cooking for one, you can update the serving settings above to reveal the required amount of ingredients.
Featured Low Carb Recipes