Sautéed Snap Peas and Cucumbers with Shallot and Dill Recipe
---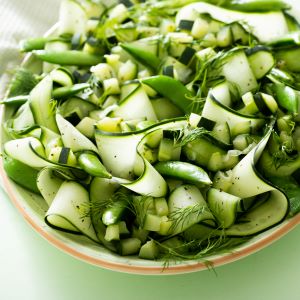 6.9g
Net Carbs
Prep Time: 15 Minutes
Style:American
Cook Time: 6 Minutes
Phase: Phase 1
Difficulty: Moderate
* Any adjustments made to the serving values will only update the ingredients of that recipe and not change the directions.

How to Calculate Atkins Net Carbs
How to Calculate Atkins Net Carbs
Atkins Net Carbs = Total Carbohydrates – Fiber – Sugar Alcohols/Glycerin (if applicable)
×
---
INGREDIENTS
4 cucumber (8-1/4") Cucumber (with Peel)

1 tbsp Light Olive Oil

1 tbsp chopped Shallots

12 oz Cooked Snowpea (Pea Pod, from Fresh)

0 1/2 tsp Salt

0 1/8 tsp Black Pepper

1 oz Dill
DIRECTIONS
Chop 2 cucumbers and use a mandolin slicer or vegetable peeler to create ribbons from the remaining 2 cucumbers. Place the cucumber ribbons on a large serving plate and set aside.
In a 12-inch non-stick skillet over medium high heat, warm oil. Add shallot and sauté until softened, about 1 minute. Add snap peas, cucumber, salt and pepper and cook 5 minutes, until cucumber is just softened and vegetables are warmed through. Sprinkle with dill, toss to combine and arrange over the cucumber ribbons. Serve warm. Each serving is 1 ¼ cups.
Cooking Tip
Whether you're feeding a family or cooking for one, you can update the serving settings above to reveal the required amount of ingredients.