Keto Ranch Dressing Recipe
---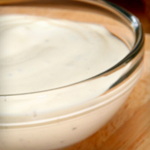 0.6g
Net Carbs
Prep Time: 10 Minutes
Style:American
Cook Time: 0 Minutes
Phase: Phase 1
Difficulty: Moderate
* Any adjustments made to the serving values will only update the ingredients of that recipe and not change the directions.

How to Calculate Atkins Net Carbs
How to Calculate Atkins Net Carbs
Atkins Net Carbs = Total Carbohydrates – Fiber – Sugar Alcohols/Glycerin (if applicable)
×
---
INGREDIENTS
2 PARSLEY

0 1/2 GARLIC

0 1/2 SALT

0 1/2 HEAVY CREAM

2 Fresh Lemon Juice

0 3/4 REAL MAYONNAISE

2 Chives

0 1/4 BLACK PEPPER

0 7/24 Dill

2 DIJON MUSTARD
DIRECTIONS
An all-American favorite, this homemade version of the creamy garlic-and-herb dressing is smooth and satisfying without the added sugar.  Each serving is just over 2 tablespoons.  
Whisk mayonnaise, cream, parsley, chives, lemon juice, mustard, minced garlic, dill, salt and pepper in a small bowl. 
Use immediately or refrigerate in an airtight container for up to 3 days.
Cooking Tip
If you are in Phase 2 or higher, use Greek yogurt in place of the mayo for a new twist to this classic recipe.
Featured Low Carb Recipes