Pumpkin Spice Cheesecake Recipe
---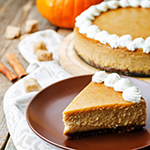 4.9g
Net Carbs
Prep Time: 20 Minutes
Style:American
Cook Time: 60 Minutes
Phase: Phase 2
Difficulty: Difficult
* Any adjustments made to the serving values will only update the ingredients of that recipe and not change the directions.

How to Calculate Atkins Net Carbs
How to Calculate Atkins Net Carbs
Atkins Net Carbs = Total Carbohydrates – Fiber – Sugar Alcohols/Glycerin (if applicable)
×
---
INGREDIENTS
1 1/2 cup, chopped Pecan Nuts

2 Tbsp Erythritol Powder

0 1/8 tsp Salt

0 1/2 tsp Cinnamon

2 tablespoon Unsalted Butter Stick

4 large Egg

24 oz Cream Cheese

0 2/3 cup Erythritol Powder

1 cup Heavy Cream

15 oz Pumpkin (Without Salt, Canned)

2 tsp Vanilla Extract

0 3/4 tsp Ginger (Ground)

0 3/4 tsp Cinnamon

0 1/4 tsp Nutmeg (Ground)

0 1/4 tsp Allspice Ground
DIRECTIONS
This recipe can be adjusted to use liquid stevia for the filling and crust.  To do so use 1/8 tsp for the crust and 1 1/2 tsp liquid stevia instead of the erythritol.  Taste and adjust if more sweetener is preferred before adding the eggs.  Swerve brand sweetener may be substituted for the erythritol as it is a combination of erythritol and inulin.  The nutritionals remain the same regardless of sweetener choice.

To make crust:
Heat oven to 350°F.

Separate one egg into yolk and egg white.  Reserve egg yolk for the filling.  

In a food processor, combine pecans, 2  tablespoons erythritol, salt and 1/2 tsp cinnamon.  Process until finely ground.   Add the melted butter and egg white and pulse a few times to combine into a sticky dough; press onto the bottom of a 9-inch springform pan, rounding up to cover the pan seam. Use a fork to prick along the bottom, and bake until golden and set, 8 to 10 minutes. Cool completely on a wire rack.
To make filling: 
Reduce oven to 325°F.
Beat softened cream cheese with an electric mixer until smooth.  Add 2/3 cup erythritol beating until combined.  Add the heavy cream beating until smooth.  Add pumpkin purée, vanilla and spices, mixing to combine. Taste and adjust spices or sweetness as desired, noting that sweetness decreases as the cake chills; add 10 or more drops liquid stevia for a sweeter cheesecake; 2 tsp pumpkin pie spice can be used instead of the spice blend in the ingredients list.  Beat in eggs and reserved egg yolk, one at a time, just until combined.
Pour batter over crust. Bake until just set in the center, 45 to 50 minutes. Turn off oven and let stand 10 minutes; transfer to a wire rack and cool completely.
Cover and refrigerate until chilled, 3 hours or overnight. Slice and serve.
Cooking Tip
We love the idea of customizing this recipe to make it your own! If you add any ingredients, just be sure to keep an eye on net carbs.  Adding a thin layer of melted chocolate or drizzeling it on top is a great way to jazz it up!
Featured Low Carb Recipes