Mexican Veal Sausages with Green Chili and Tortillas Recipe
---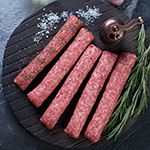 6.3g
Net Carbs
Prep Time: 5 Minutes
Style:Mexican
Cook Time: 10 Minutes
Phase: Phase 3
Difficulty: Moderate
* Any adjustments made to the serving values will only update the ingredients of that recipe and not change the directions.

How to Calculate Atkins Net Carbs
How to Calculate Atkins Net Carbs
Atkins Net Carbs = Total Carbohydrates – Fiber – Sugar Alcohols/Glycerin (if applicable)
×
---
INGREDIENTS
1 1/2 lb Ground Veal

2 large Scallions or Spring Onions

1 oz Cilantro (Coriander)

4 tablespoon Green Tomato Chile Sauce (Salsa Verde)

0 1/2 tsp Cumin

0 1/2 tsp Salt

0 1/4 tsp Black Pepper

2 tbsp Light Olive Oil

4 tortilla Low Carb Tortillas

0 1/4 cup Sour Cream (Cultured)

1 fruit (2" dia) Lime
DIRECTIONS
In a large bowl, mix veal, diced onion, minced cilantro, 2 tablespoons salsa, cumin, salt and pepper gently, until just combined. Shape into four sausage shapes.
Heat oil in a large nonstick skillet over medium heat until very hot. Cook sausages turning occasionally for even browning, until cooked through, about 8 to 10 minutes.
Serve wrapped in heated low-carb tortillas garnished with the remaining 2 Tbsp salsa, sour cream and lime.
Cooking Tip
Whether you're feeding a family or cooking for one, you can update the serving settings above to reveal the required amount of ingredients.