Keto Salt and Pepper Crackers Recipe
---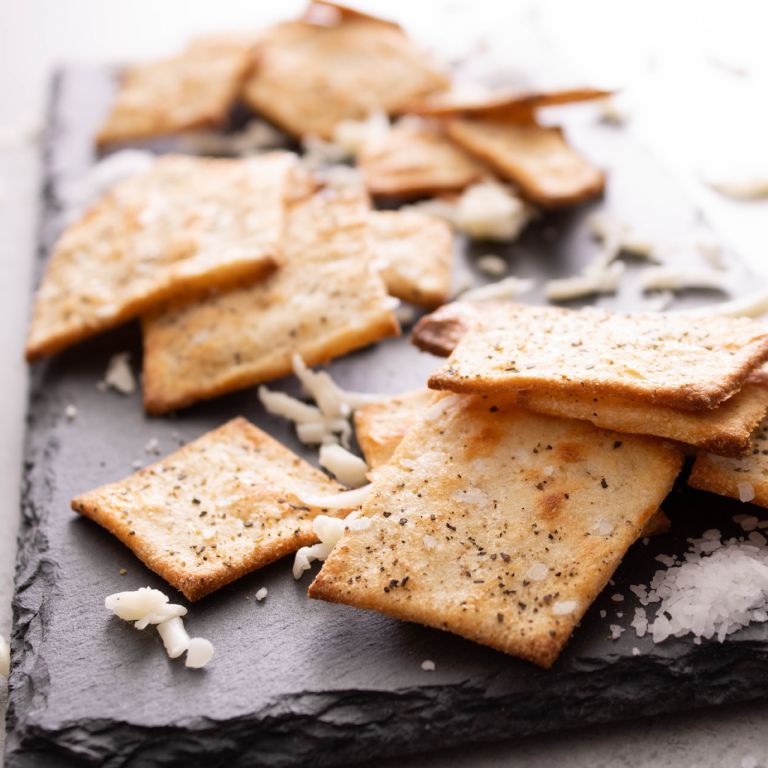 2.6g
Net Carbs
Prep Time: 10 Minutes
Style:American
Cook Time: 15 Minutes
Phase: Phase 1
Difficulty: Difficult
* Any adjustments made to the serving values will only update the ingredients of that recipe and not change the directions.

How to Calculate Atkins Net Carbs
How to Calculate Atkins Net Carbs
Atkins Net Carbs = Total Carbohydrates – Fiber – Sugar Alcohols/Glycerin (if applicable)
×
---
INGREDIENTS
0 1/2 cup(s) Mozzarella cheese, shredded, whole milk (1 cup= 113 g)

1 white Egg White

2 Tbsp Coconut Flour

4 grams Psyllium husk powder (1 tsp= 4 g)

0 1/4 tsp Black Pepper, ground

0 1/8 teaspoon(s) Kosher salt (1/4 tsp= 1.5 g)
DIRECTIONS
Preheat oven to 325°.
In a medium bowl combine the egg white, coconut flour and psyllium powder until well combined and egg white is evenly dispersed.
In a small bowl melt the cheese in the microwave (15-30 seconds), or over a double boiler. Scrape the cheese into the bowl with the flour mixture and use your hands to knead together until fully combined.
Prepare two pieces of parchment with cooking spray. Place the cracker dough between sprayed parchment and roll into a very thin, roughly 7-inch by 11-inch rectangle. The more even the thickness, the more evenly the crackers will cook. Sprinkle the top with the salt and pepper.
Cut into roughly even sized (1 ½ -inch by 1 ½ -inch suggested) crackers and separate on the parchment so that there is a little room between each cracker. Place parchment on a baking sheet and bake for 7 minutes, flip each cracker, and bake for another 7-10 minutes, watching closely toward the end to avoid burning. Allow to cool and crisp up before serving. 
This recipe yields about 2.3 ounces of crackers for two servings, so each serving will be 1.15-ounces or 33 grams. The number of crackers this equates to will depend on the size of the crackers you make.
Featured Low Carb Recipes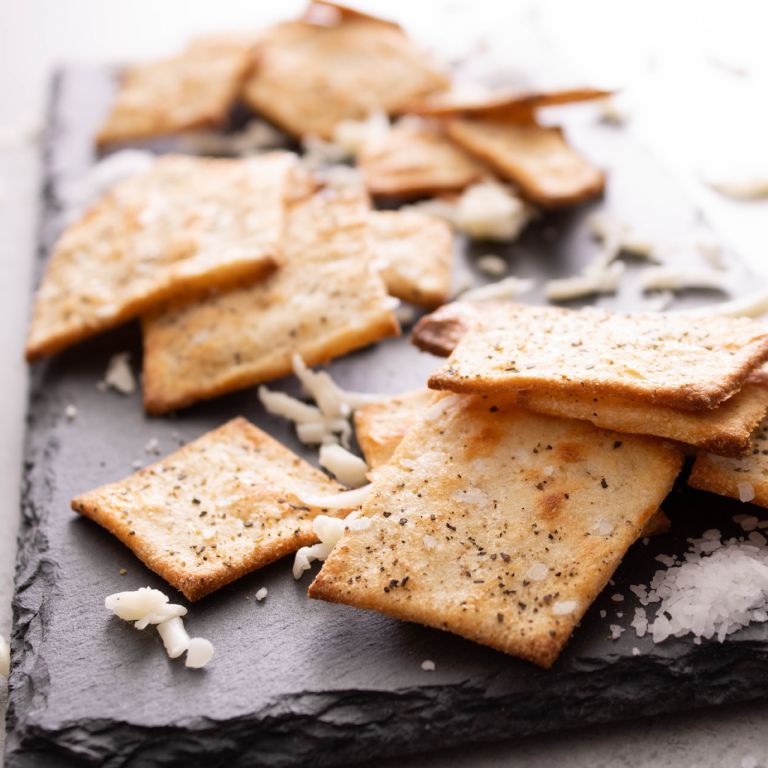 Keto Salt and Pepper Crackers