Creamy Spinach and Parmesan Puff Recipe
---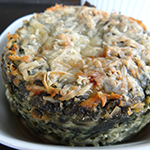 2.2g
Net Carbs
Prep Time: 10 Minutes
Style:American
Cook Time: 30 Minutes
Phase: Phase 1
Difficulty: Difficult
* Any adjustments made to the serving values will only update the ingredients of that recipe and not change the directions.

How to Calculate Atkins Net Carbs
How to Calculate Atkins Net Carbs
Atkins Net Carbs = Total Carbohydrates – Fiber – Sugar Alcohols/Glycerin (if applicable)
×
---
INGREDIENTS
2 large Egg (Whole)

1 cup Heavy Cream

0 1/4 tsp Nutmeg (Ground)

1 lb Spinach

4 oz Parmesan Cheese (Shredded)
DIRECTIONS
Use either fresh or frozen chopped spinach for this recipe.  For the frozen:  thaw first and squeeze out any excess moisture.  For fresh:  chop it and then place into a microwave safe bowl.  Heat for 1 minute intervals until it is cooked, drain and cool to room temperature.
Prepare a 1-quart souffle dish with a small amount of oil.
In a small bowl, whisk together the eggs, cream and nutmeg.  Add the spinach and cheese (leaving 1/4 cup cheese for the top) mixing to combine.
Pour into the prepared dish, top with reserved cheese and bake at 350°F for 30 minutes until puffed and golden on top.  Serve immediately.
Cooking Tip
Whether you're feeding a family or cooking for one, you can update the serving settings above to reveal the required amount of ingredients.