Keto Chocolate-Coconut Haystacks Recipe
---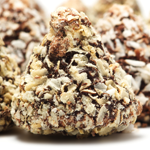 1.4g
Net Carbs
Prep Time: 15 Minutes
Style:American
Cook Time: 12 Minutes
Phase: Phase 1
Difficulty: Moderate
* Any adjustments made to the serving values will only update the ingredients of that recipe and not change the directions.

How to Calculate Atkins Net Carbs
How to Calculate Atkins Net Carbs
Atkins Net Carbs = Total Carbohydrates – Fiber – Sugar Alcohols/Glycerin (if applicable)
×
---
INGREDIENTS
2 large Egg White

1 cup Sucralose Based Sweetener (Sugar Substitute)

2 tbsp Cocoa Powder (Unsweetened)

2 cup Coconut, unsweetened, flaked

2 tbsp Hershey's Sugar Free Chocolate Syrup
DIRECTIONS
Heat oven to 325°F. Line baking sheets with aluminum foil.
Whip egg whites on low until medium peaks form; gradually beat in sugar substitute and cocoa powder; continue beating until stiff peaks form. Fold in coconut and syrup.
Drop mixture by rounded teaspoonfuls onto prepared baking sheets. Shape into little pyramids with wet fingertips. Bake 12 minutes. Cool on sheets 1 minute before transferring to wire racks to cool completely.  1 serving is one haystack.
Cooking Tip
We love the idea of customizing this recipe to make it your own! If you add any ingredients, just be sure to keep an eye on net carbs.