Keto Asian-Style Coleslaw Recipe
---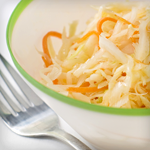 2.6g
Net Carbs
Prep Time: 15 Minutes
Style:Asian
Cook Time: 0 Minutes
Phase: Phase 1
Difficulty: Moderate
* Any adjustments made to the serving values will only update the ingredients of that recipe and not change the directions.

How to Calculate Atkins Net Carbs
How to Calculate Atkins Net Carbs
Atkins Net Carbs = Total Carbohydrates – Fiber – Sugar Alcohols/Glycerin (if applicable)
×
---
INGREDIENTS
1 cup, chopped Snowpeas (Pea Pod)

1 large (7-1/4" to 8-1/2" long) Carrots

12 oz Chinese Cabbage (Bok-Choy, Pak-Choi)

2 tablespoon Extra Virgin Olive Oil

1 tbsp Toasted Sesame Oil

2 tbsp Sodium and Sugar Free Rice Vinegar

1 tbsp Tamari Soybean Sauce

2 tsp Ginger

1 tsp No Calorie Sweetener
DIRECTIONS
This naturally keto and low carb recipe is suitable for Phases 1 and 2, simply substitute the carrot with additional cabbage.
Shred cabbage then place in a large bowl.  Grate the carrot into cabbage. Mix in thinly sliced snow peas.
In a small bowl, mix oils, vinegar, tamari, ginger and sugar substitute.
Pour dressing over salad; toss to coat. Season to taste with salt.
Cooking Tip
Feel free to swap in different types of cabbage in this recipe, as net carb change will likely be minimal.  A mixture of red and green cabbage makes a colorful salad especially if you aren't using carrots.
Featured Low Carb Recipes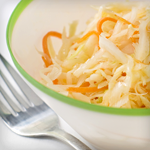 Keto Asian-Style Coleslaw