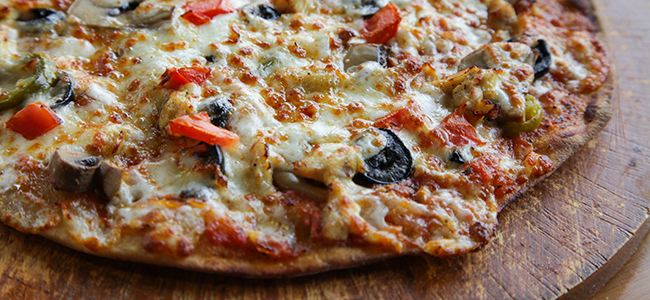 Is pizza your weakness? We've created some delicious alternatives to those carby-crusts. Whether you're entertaining a study group, throwing something together for the family, or just craving pizza, here are four great alternative, low-carb crusts that are easy to make, and delicious!
Be sure to look into our low-carb take on traditional pizza sauce, in addition to nutritional information on some yummy go-to toppings.
If you don't have time to cook, pick up one of our delicious pizzas, with 11g net carbs!
CRUST
Almond Thin and Crispy Pizza Crust (6.2g NC, Phase 4)
Almond and Parmesan Pizza Crust (2.6g NC, Phases 2-4)
Flax Meal Pizza Crust (0.5g NC, All phases)
SAUCE
Traditional Pizza Sauce (3.8g NC, All phases)
Sliced tomatoes (from 1 medium tomato, 3.3g NC)
CHEESE
Mozzarella cheese (2cups shredded, 4.9g NC)
Parmesan cheese (1/2 cup grated, 2.0g NC)
Pesto Sauce (1 serving, 1.7g NC)
TOPPINGS
Red/green bell pepper (1/2 cup chopped, 3g NC or 1 cup sliced, 3.8g NC)
Pepperoni (1oz = 0.8g NC)
Mushrooms (button, 6oz sliced, 3.5g NC)
Sausage (Italian, 8oz, 1.5g NC)
Black olives (1/4 cup sliced, 1.1g NC)
Sun dried tomatoes (1/4 cup, 4.8g NC)
Artichoke hearts (marinated, 8 each, 9g NC)
Basil leaves (24 each, .1gNC)
Ham (8 oz, .7g NC)
Anchovies (8 each, 0g NC)
Bacon (6oz, 0.7g NC)
Pineapple (1/2 cup chopped, 8.7g NC)
Jalapeno pepper (1 oz, 0.9g NC)