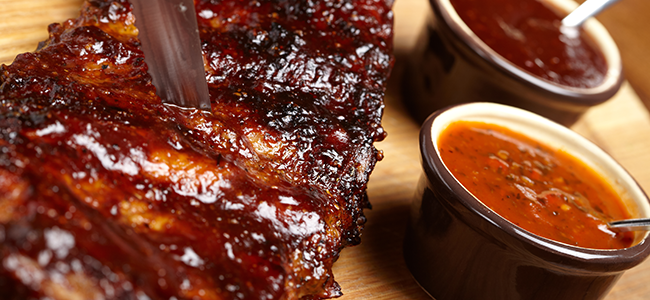 Sometimes, the right sauce can make the meal, and since March is National Sauce Month, what better day is there to celebrate sauces than today? Unfortunately, some sauces have unnecessary carbs, but there are plenty of low carb options out there. For example, low carb BBQ sauces can still be delicious without the added sugar, and the same can be true for low carb spaghetti sauce. Take a look at the following low carb sauces and see what you think:
This tasty barbecue sauce would taste great with chicken or ribs and is made with olive oil, onion, tomato paste, chili powder, cumin, garlic powder, mustard seed, allspice, cayenne pepper, ketchup, cider vinegar, Worcestershire sauce, sugar substitute and instant coffee. With 3.7g net carbs, this BBQ sauce is just what you're looking for.
For something a little spicier, test out this low carb BBQ sauce variation—Chili-Barbecue Sauce. The ingredients for this sauce include olive oil, onion, chili powder, cider vinegar, low carb beer, beef broth, Worcestershire sauce, ketchup and arrowroot.Chili-Barbecue Sauce has 3.5g net carbs.
This low carb spaghetti sauce could dress up low carb pasta but would also taste great with meatballs. Basic Tomato Sauce is made with olive oil, onion, celery, garlic, basil and crushed tomatoes and has 8.2g net carbs. Pair this tomato sauce with different dishes to see how you like it best.
This low carb pizza sauce would be fantastic with an
Almond and Parmesan Pizza Crust. Traditional Pizza Sauce is made with olive oil, garlic, onion, tomato paste, basil, oregano, fennel seed, stevia, salt, black pepper, red pepper and crushed tomatoes. With only 3.8g net carbs per serving, this is a no-guilt low carb pizza sauce.
Happy National Sauce Month!Take a look at our
Recipes section to find more low carb sauces, like this low carb Cocktail Sauce recipe.