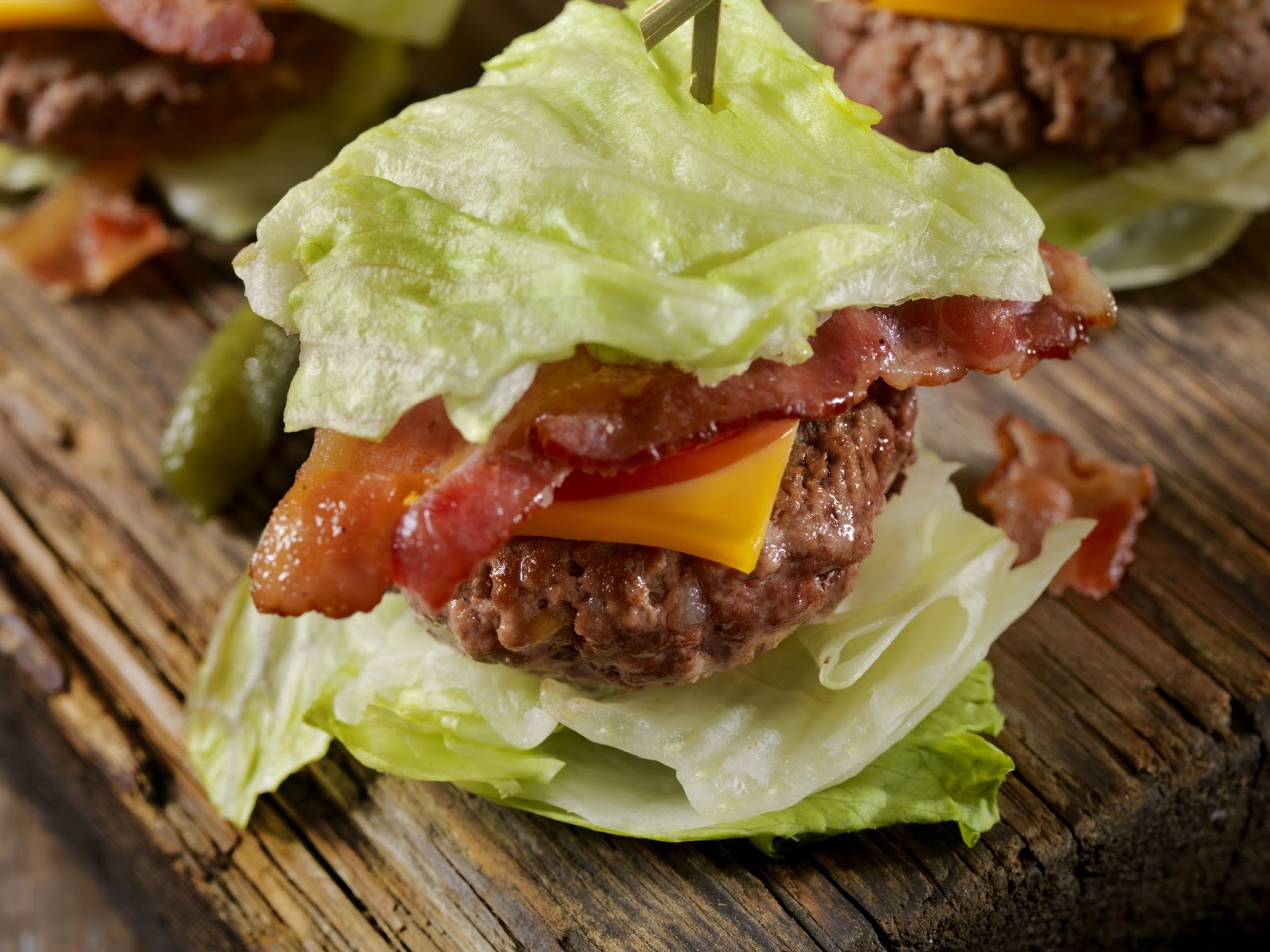 Following a low carb lifestyle doesn't mean you have to sacrifice the on-the-go convenience of fast food. There are plenty of ways to stay true to your low carb goals while at your favorite fast food restaurants. Plus, if you're following a more flexible keto diet like Atkins 20® or Atkins 40®*, you have even more options when you're out and about. Here are just a few keto fast food picks to consider:
Bunless Burgers and Sandwiches
While fries are a no-go, finding other keto fast food options can be as simple as saying "hold the bun!" Burger chains like McDonald's, Carl's Jr./Hardee's and Burger King will happily serve you a classic hamburger, sans bun, for a keto friendly fast food meal. A bunless Wendy's Double Stack clocks in at 260 calories, 20g fat, 1g carbs and 20g protein, making it a perfectly keto friendly drive-thru option. Don't want to use a fork? On the West Coast, you can ask for your In-N-Out burger "protein-style" to replace your standard bun with leaves of lettuce. You'll also want to avoid ketchup, which can be quite sugar-heavy.
If you're in the mood for something lighter, KFC will similarly provide their grilled chicken sandwiches without the bun. You can also ask for a Subway or Jersey Mike's sandwich "in a tub," which assembles the sandwich ingredients in a to-go container minus the bread. Or, at Jimmy John's, you can ask for any of their sandwiches wrapped in lettuce for a low carb option. Their #4 Turkey Tom Unwich is 240 calories, 17g fat, 4g carbs and 14g protein.
Bowls and Salads
Chipotle fans, rejoice! The Mexican food fast-casual staple has crafted a specific keto-friendly bowl, called the Keto Bowl, for one-step ordering and 535 calories, 36g fat, 17g carbs, and 30g protein. You can also craft your bowl or salad to your liking with whichever keto veggies you like best. Chains like Taco Bell and El Pollo Loco also offer burrito bowl options; just be sure to skip the rice and beans, and add lettuce instead.
Many chains also offer several salad options, but be careful when choosing! With ingredients like fruit, croutons and sugary dressings, they may not be your best choice for fast food on keto. Try an Arby's Roast Chicken Salad; at 250 calories, 14g fat, 8g carbs, and 25g protein, you'll stay on track while getting plenty of veggies. There are also plenty of new salad chains popping up across the country, such as Sweetgreen, which give you more control over your salad's ingredients.
Breakfast Options
If you're off to an early start, you can still get something fast and low carb from your favorite places. As with burgers, you can ask for any breakfast sandwich without the bun, bread, or muffin, but there are more keto friendly fast food options to be seen on the breakfast menu of some chains. Hardee's offers their Low Carb Breakfast Bowl, featuring a bevy of eggs, sausage, cheese, and bacon for a protein-packed start to your day at 660 calories, 52g fat, 10g carbs, and 38g protein. The Bacon and Gruyere Sous Vide Egg Bites at Starbucks are also a protein-rich option, at 300 calories, 20g fat, 9g carbs, and 19g protein.
Whether you're sticking to a keto diet, or you're looking for more low carb options at your favorite fast food restaurants, there's plenty to choose from for every time of day. Just like when you're dining out, all it takes to enjoy fast food on keto or low carb diets is a little bit of planning ahead. And, when you have the added flexibility of Atkins 20 and Atkins 40, it's even easier! Hit the road and get started on your Atkins journey today.
*To maintain ketosis, continue with Atkins 20 Induction.