---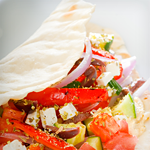 7.5g
Net Carbs
Prep Time: 10 Minutes
Style:American
Cook Time: 10 Minutes
Phase: Phase 2
Difficulty: Difficult
* Any adjustments made to the serving values will only update the ingredients of that recipe and not change the directions.

How to Calculate Atkins Net Carbs
How to Calculate Atkins Net Carbs
Atkins Net Carbs = Total Carbohydrates – Fiber – Sugar Alcohols/Glycerin (if applicable)
×
---
INGREDIENTS
2 tbsp Light Olive Oil

16 oz, boneless, cooked, skinless Turkey Cutlet

1 tbsp Original Taco Seasoning Mix

0 1/3 cup Sour Cream (Cultured)

0 1/4 cup, chopped Red Onions

1 oz Cilantro (Coriander)

4 tortilla Low Carb Tortillas

0 1/2 medium (approx 2-3/4" long, 2-1/2" dia) Green Sweet Pepper

2 oz Salsa
DIRECTIONS
Heat 1 tablespoon (3 teaspoons) oil in a large skillet over medium-high heat. Sprinkle turkey cutlets with taco seasoning and sauté until just cooked through, about 2 minutes per side. Transfer turkey to a cutting board and cut into strips.
Add sour cream, onion and cilantro to skillet. Cook until onions are slightly softened and mixture is heated through, about 3 minutes.
Return turkey strips and any accumulated juices to skillet, toss to coat and remove from heat.
To make each taco, heat 1 teaspoon oil in a medium skillet on high heat until very hot. Add tortilla and fry 1 minute per side until light golden brown. Remove and drain excess oil on paper towels. Place 1/4 of the filling on half of the tortilla, fold and top with 1/4 of the pepper strips and 1 tablespoon salsa. Repeat entire process with remaining tortillas.
Cooking Tip
Whether you're feeding a family or cooking for one, you can update the serving settings above to reveal the required amount of ingredients.