Spinach, Swiss Chard and Cheese Bake Recipe
---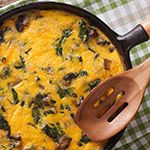 4.5g
Net Carbs
Prep Time: 10 Minutes
Style:American
Cook Time: 40 Minutes
Phase: Phase 1
Difficulty: Difficult
* Any adjustments made to the serving values will only update the ingredients of that recipe and not change the directions.

How to Calculate Atkins Net Carbs
How to Calculate Atkins Net Carbs
Atkins Net Carbs = Total Carbohydrates – Fiber – Sugar Alcohols/Glycerin (if applicable)
×
---
INGREDIENTS
3 10 oz package Frozen Chopped Spinach

20 oz Swiss Chard

3 large Egg (Whole)

1 cup Sour Cream (Cultured)

0 1/8 tsp Nutmeg (Ground)

0 1/2 tsp Salt

0 1/4 tsp Black Pepper

6 oz Cheddar Cheese
DIRECTIONS
If you can't find frozen Swiss chard, replace it with additional frozen spinach.
Defrost spinach and Swiss chard; pour off excess water and squeeze dry.

Preheat oven to 350°F.

In a large bowl, mix spinach, chard, eggs, sour cream and nutmeg; season well with salt and pepper. 

Transfer to a shallow buttered baking dish. Using a spatula, even out the mixture; top with cheese.

Bake 40 minutes until bubbly and browned on top. Serve immediately or at room temperature.
Cooking Tip
Whether you're feeding a family or cooking for one, you can update the serving settings above to reveal the required amount of ingredients.
Featured Low Carb Recipes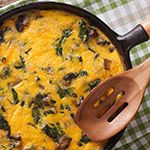 Spinach, Swiss Chard and Cheese Bake