Sesame Asparagus Salad Recipe
---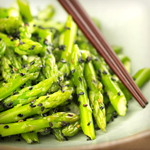 3.5g
Net Carbs
Prep Time: 40 Minutes
Style:Asian
Cook Time: 6 Minutes
Phase: Phase 1
Difficulty: Moderate
* Any adjustments made to the serving values will only update the ingredients of that recipe and not change the directions.

How to Calculate Atkins Net Carbs
How to Calculate Atkins Net Carbs
Atkins Net Carbs = Total Carbohydrates – Fiber – Sugar Alcohols/Glycerin (if applicable)
×
---
INGREDIENTS
2 lb Asparagus

2 tbsp Tamari Soybean Sauce

1 tbsp Sodium and Sugar Free Rice Vinegar

2 tsp Sesame Oil

1 tsp No Calorie Sweetener

2 tbsp Dried Whole Sesame Seeds
DIRECTIONS
This recipe is acceptable for all phases of the diet except the first 2 weeks of Induction due to the sesame seeds.  
Place asparagus in a large saucepan of lightly salted boiling water. Simmer 6-8 minutes until just tender. Do not overcook (stalks should not droop when picked up). Drain and pat dry. Cut into 1 1/2-inch pieces.
In a large bowl, mix soy sauce, vinegar, sesame oil, sugar substitute and sesame seeds. Add asparagus and toss to coat.
Chill 30 minutes for flavors to blend.
Cooking Tip
Feel free to swap in your favorite lettuce for this recipe, as net carb change will likely be minimal.
Featured Low Carb Recipes