Keto Salad Nicoise Recipe
---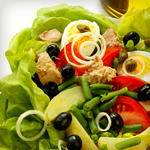 6.5g
Net Carbs
Prep Time: 15 Minutes
Style:French
Cook Time: 0 Minutes
Phase: Phase 1
Difficulty: Difficult
* Any adjustments made to the serving values will only update the ingredients of that recipe and not change the directions.

How to Calculate Atkins Net Carbs
How to Calculate Atkins Net Carbs
Atkins Net Carbs = Total Carbohydrates – Fiber – Sugar Alcohols/Glycerin (if applicable)
×
---
INGREDIENTS
2 tbsp Red Wine Vinegar

1 tsp Dijon Mustard

3 tablespoon Extra Virgin Olive Oil

12 oz Tuna in Water (Canned)

2 large Boiled Egg

1 medium whole (2-3/5" dia) Red Tomatoes

6 oz Green Snap Beans

0 1/4 small Red Onions

0 29/48 10 small Black Olives

4 each Anchovy (Drained Solids In Oil, Canned)
DIRECTIONS
In a large bowl, whisk together vinegar and mustard. Slowly drizzle in oil and whisk until slightly thickened. Season to taste with salt and pepper.
Drain tuna then arrange with the eggs, diced tomato, cooked green beans (steam on the stove or in a microwave for 1-2 minutes till crisp-tender), and sliced onion on 2 plates.
Drizzle with dressing; top with olives and anchovies (if using). Enjoy!
Cooking Tip
Feel free to swap in your favorite lettuce for this recipe, as net carb change will likely be minimal.