Keto Parmesan Crisps Recipe
---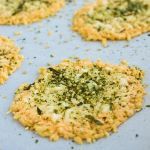 0.5g
Net Carbs
Prep Time: 2 Minutes
Style:Italian
Cook Time: 8 Minutes
Phase: Phase 1
Difficulty: Moderate
* Any adjustments made to the serving values will only update the ingredients of that recipe and not change the directions.

How to Calculate Atkins Net Carbs
How to Calculate Atkins Net Carbs
Atkins Net Carbs = Total Carbohydrates – Fiber – Sugar Alcohols/Glycerin (if applicable)
×
---
INGREDIENTS
0 3/4 cup Kraft Shredded Parmesan Cheese Natural Cheese

0 2/24 Tbsp Italian seasoning
DIRECTIONS
Ingredient Notes:
Be sure to use shredded, not grated, parmesan cheese for these crisps.
Preheat the oven to 325°F. Line a baking sheet with parchment paper.
Use a large mouth cup or mug to draw 6 roughly 4-inch circles on the parchment paper. Fill each circle with 2 tablespoons of parmesan cheese, smoothing the shreds out and creating a slightly thicker outer edge. Sprinkle with about a pinch of Italian seasoning and bake for 7 minutes and 30 seconds, or until the outer edges and the bottom are golden but not burned.
Remove from oven and let cool for at least 1 minute before eating. Store in an airtight container at room temperature for up to one day. These will become less crisp over time as they are stored.