Mocha Almond Keto Ice Cream Recipe
---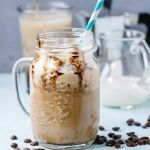 1.8g
Net Carbs
Prep Time: 265 Minutes
Style:American
Cook Time: 15 Minutes
Phase: Phase 2
Difficulty: Difficult
* Any adjustments made to the serving values will only update the ingredients of that recipe and not change the directions.

How to Calculate Atkins Net Carbs
How to Calculate Atkins Net Carbs
Atkins Net Carbs = Total Carbohydrates – Fiber – Sugar Alcohols/Glycerin (if applicable)
×
---
INGREDIENTS
1 each Atkins Mocha Latte Shake

1 2/3 cup Heavy Cream, liquid

2 large Egg Yolk

1 each Egg

0 1/4 cup Erythritol

3 Tbsp Cocoa Powder

0 1/4 cup Diamond Sliced Almond
DIRECTIONS
In a medium saucepan, whisk together the shake, and cream. Warm over medium heat, stirring occasionally, until it is bubbling along the sides and steaming, but not boiling, about 7 minutes.

While the cream mixture is warming, use a medium bowl to whisk together the egg yolks, whole egg, powdered sweetener, and cocoa powder until well combined.

Once the cream mixture is warm, temper the egg mixture by slowly whisking in about 1 cup of the warm cream. Whisk the egg mixture into the saucepan with the cream and place back over medium heat, stirring constantly. Heat until the custard thickens to coat the back of a spoon and reaches at least 165°F, about 7 minutes.

Pour custard into a clean bowl and place a cover directly on the custard surface to ensure a skin does not form. Cool in the refrigerator for at least 4 hours or overnight.

Process in an ice cream maker according to manufacturer instructions, adding the sliced almonds in the last 5 minutes of processing. Serve immediately for soft serve texture, or freeze in a safe container for a harder texture. Each serving is 1/2 cup.

Alternatively, you can make this without an ice cream maker. Follow instructions through number 4, then place in a freezer safe container in the freezer. Stir or whisk the custard every half hour for the first couple hours to break up ice crystals, adding the sliced almonds after 1 1/2 hours. Freeze for a total of 4-5 hours before serving.