Crunchy Almond Pretzels Recipe
---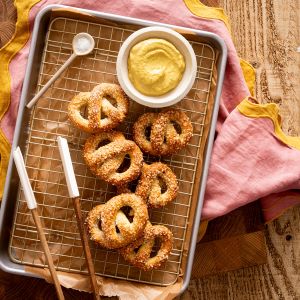 3.5g
Net Carbs
Prep Time: 10 Minutes
Style:American
Cook Time: 30 Minutes
Phase: Phase 2
Difficulty: Difficult
* Any adjustments made to the serving values will only update the ingredients of that recipe and not change the directions.

How to Calculate Atkins Net Carbs
How to Calculate Atkins Net Carbs
Atkins Net Carbs = Total Carbohydrates – Fiber – Sugar Alcohols/Glycerin (if applicable)
×
---
INGREDIENTS
1 1/2 tsp Bakers Yeast (Active Dry)

2 tbsp Tap Water

1 1/2 cup Blanched Almond Flour

0 1/8 tsp Salt

0 3/4 tsp Baking Powder (Straight Phosphate, Double Acting)

0 1/4 tsp Guar Gum

0 1/4 tsp Crushed Red Pepper Flakes

0 1/4 tsp Black Pepper

0 1/4 tsp White Pepper

1 large Egg (Whole)

0 1/4 tsp Baking Soda

1 large Egg White

1 tsp Coarse Kosher Salt
DIRECTIONS
Preheat oven to 350°F. Combine the yeast with 1 tablespoon warm water in a small bowl. Set aside and allow to foam.
In a medium bowl combine the almond flour, baking powder, 1/8 tsp salt, guar gum, crushed red pepper, black pepper, white pepper and a pinch of stevia (optional) Mix to combine.
Whisk the whole egg into the yeast and water mixture then blend into the flour mixture with a fork until thoroughly combined forming a stiff dough; divide into 6 portions. Use a small amount of oil on your hands, pick up a portion of pretzel dough and begin to roll into a 10-inch snake. Form pretzel shapes or into a round for each piece of dough. The dough may crack or break; use a little water and your fingers to press it back into shape.
Set each finished pretzel onto a piece of greased parchment paper. Whisk together the egg white, 1 tablespoon of water and 1/4 teaspoon baking soda. Brush egg wash over pretzels then sprinkle coarse salt over the tops. Bake for 30 minutes rotating pan halfway through. Allow to cool for 20 minutes before eating with your favorite mustard or party dip.
Cooking Tip
Having a party? When planning your low carb spread, think about which dishes you can make in advance and which need fresh ingredients that day.